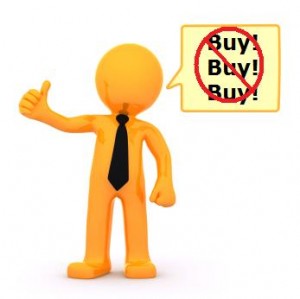 Wouldn't it be great if all you had to do was send out a tweet saying "We're selling the best widgets in the entire world, come buy some" – and that worked?
I wish it did.
But it doesn't.
Businesses that are just getting started with social media often begin just like that. They talk all about their products and services – how wonderful they are, what's new, what a great deal they are offering – but it doesn't get the results they want.
Some give up at that point, deciding that social media just doesn't work for them.
But others realize that you can't only talk about your products – that's missing the point of social media.
Social media is about letting people discover who you are.
Letting people see what kind of a business you run, who your customers are, who your employees and partners are, who refers business to you…
And allowing them to get comfortable enough with all of that to become a customer themselves.
We've been analyzing social media for some time now, and we've come up with 7 themes that you should address in your posts. Here are the 7:
In the next series of blog posts, we'll talk about each of these in turn – what each means and how you can do that in different types of social media.
Stay tuned…