Create a Strong Personal Brand for Yourself and Your Leadership Team
Tell Stories, Share Thought Leadership, Communicate Effectively Using Social Media
People meet you for the first time online. Use your LinkedIn presence to impress them, build trust, educate, and get them ready for the conversation you want to have.
Global executives who say they want their CEO to be active in social media
Source: The Social CEO
Global executives attributed 45% of their company's reputation and 44% of their market value to the reputation of their CEO
Source: The CEO Reputation Premium
Buyers who say they research vendors by looking at their LinkedIn profile.
Source: IDC
Your LinkedIn presence showcases your ability to tell your company story, express your vision in a compelling way, share your thought leadership, and invite people to be a part of what you are building. Let the experts at ProResource optimize LinkedIn for you, so you maximize your results.
Get Your Personal Digital Presence Analysis
What do people see when they look for you online? Your analysis covers the following areas:
How easy are you to find?
How polished and professional do you look?
Is your presence aligned with your goals?
Are you demonstrating knowledge and expertise?
Are you engaging effectively?
How to Craft a CEO Brand on LinkedIn – 2020 Edition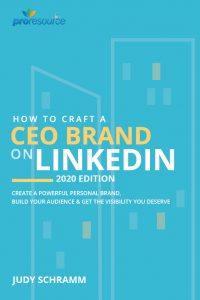 Step-by-step instructions for using LinkedIn strategically to build a strong personal brand, position yourself as a thought leader, and raise your visibility so you can make faster progress on key initiatives. Includes tips on crafting your LinkedIn profile, expanding your network, sharing content, and much more.
"We knew LinkedIn held potential for us, but we didn't know how to leverage it. Then we found the ProResource team — true mavens of the inner workings of LinkedIn. We've used the ProResource team to produce blogs, create targeted ads, and enhance personal branding to promote our business. We've gotten amazing response rates to our ads and seen tremendous results in conversions. The ProResource team really makes a difference!"

Carolyn McDonald
President, NavtechGPS
"My business is marketing — so I understand the value of LinkedIn — but as CEO, my time is stretched across many priorities. Working with ProResource, I have a strong presence on LinkedIn that is effortless. By effortless I mean timely responses to inquiries, thorough research, and always finding a solution to even the smallest problem. That's what a busy executive needs at-the-ready."

Bruce Gregoire
CEO | WiseGuys Marketing
"I was very impressed with the process deployed by ProResource and very pleased with the final product created through their thoughtful efforts. The representatives I worked with were diligent about scheduling and follow through. My interviewer did a very nice job summarizing our conversation, which became the core of my revised profile on LinkedIn. The ProResource process is quite thorough but they make their client's part of the process seem effortless."

Jeff Frank
Lawyer and Managing Shareholder of Buchalter's Seattle Office
Subscribe to GameChanger Newsletter
Get tips & strategies for executive social media