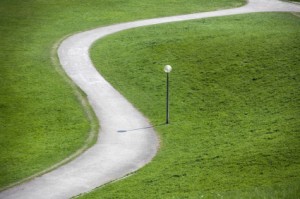 Marketing's main goal is to reach customers at the right time when they're ready to receive the specific message. For years, they have relied on the traditional purchasing funnel that begins with the wide end of the funnel where customers search for brands that offer potential solutions.
The company does targeted marketing activities as customers move along in the funnel to shrink the number of prospects and then the funnel ends when the customer makes the purchase.
Because of the growing number of product choices and digital channels and more well-informed customers, the funnel approach doesn't work today.
Moving from the Traditional Funnel to the Customer Decision Journey (CDJ)
This new environment requires a different approach, one that's less linear. McKinsey calls it the Customer Decision Journey (CDJ), and assigns the following four phases. (Items in parentheses represent the comparable phase in traditional funnel.)
Initial consideration (awareness and familiarity)
Active evaluation (consideration)
Closure (purchase)
Postpurchase (none)
The CDJ works with multiple channels, multiple locations and across multiple access points, such as offline and online through smartphones, tablets and web-based. Also, communication has shifted from one-way to two-way conversation, and social media provides an effective forum for these conversations.
That said, word-of-mouth plays a bigger role – and more so as post-purchase loyalty makes up the last part of the CDJ. There are two types of loyalty: active and passive. Active loyalists advocate for a brand and recommend it to others, often through social media. Although passive loyalists simply keep using the product, they're open to marketing messages that could convince them to change.
With its journey ending after the sale, the linear traditional sales funnel doesn't cover communication and loyalty. The CDJ does as it loops through buy, use, buy again and tell others, or starts over.
Using Social Media with the CDJ
Social media gives marketers a way to influence prospects and clients in every phase of the journey. But that doesn't mean they should treat all phases equally. McKinsey reports that some phases are more important than others depending on the brand, industry and type of business.
Initial consideration
Marketers targeting customers during the initial consideration phase need to build awareness and familiarity. Rather than tackling all the major social networks, marketers identify the ones their target market uses.
During this phase, customers typically review brands and offerings to figure out their needs and features. Companies support that by sharing information, educating customers, making offers, holding events and implementing other activities that help the customer to connect with the company and get to know the company better.
After connecting, the company takes steps to stay in touch on a regular basis because repetition breeds familiarity and comfort.
For example, a marketing automation company using Twitter could tweet links to resources to help customers learn more about marketing automation. This could be links to the company's blog posts, webinars and other non-company resources on the topic. They also share short tips on what to consider when buying marketing automation. Employees can also search for questions they can answer and act as helpful experts.
In LinkedIn, the company details its products and services on its company page. It can also invite targeted connections to sign up for an email newsletter to put prospects on their mailing list for regular communication. Take care to provide useful information without over-promoting the company's products.
Active evaluation
During this phase, customers have a list of potential brands they want to evaluate. They'll be looking for reviews and word-of-mouth recommendations from colleagues. They also consider past experiences and their interactions with employees and representatives from the brands they're considering. Social media excels here as it provides a forum for companies to interact with clients and prospects.
Traditional marketing still applies, but marketers have to work harder to influence the consumer-driven touch points of word-of-mouth and reviews. Another important activity is monitoring social media for mentions of the company and its competitors. Responding to these conversation starters – positive, neutral and negative – allows the company to engage with the public where prospects can learn from those interactions.
Closure
Social media doesn't have a role in this phase especially for B2B and services-oriented companies as the conversations from the previous phases will lead to closure.
Post-purchase
For this phase, marketers expend energy in building loyalty and continuing efforts to expose the customer to the company. Loyalty is about engaging, creating great customer experiences and showing they matter to you – all while making it easy for customers to share.
One way to do that is create a LinkedIn group or customer service forum to build a community where customers can help each other with the product or service, share experiences and post enhancement suggestions.
Collecting reviews and testimonials is also a factor in this phase. LinkedIn company pages let people post testimonials by product or service. When the timing is right, the company can request testimonials from customers. For instance, after you've delivered your product or completed a service, send an email to clients asking about their experience with your product or service and what you can do to better serve them. Add a link to your LinkedIn products page where they can post it. Or use it as a quote in a blog post and other places online.
Putting the CDJ Approach to Work
Marketers need to evaluate their touch points to determine which requires more focus. No longer is the focus on the beginning and end of the funnel. Companies doing that will miss opportunities to connect with and influence clients especially in postpurchase phase.
Remember different phases have different levels of importance based on the company and industry. This along with their lead generation strategy, companies determine where they should spend more or fewer resources in supporting the customer's journey to maximize social media and build trusted relationships. Marketers must map their process and messaging to each stage of the CDJ to ensure they reach the right customers, address pain points, and do it in the right phases to influence them to take the next step.
Buyers are more informed and have more control of the buying process. Social media connects you with those buyers allowing you to provide them with what they need in their journey.
Need help? There are so many more ways you can empower your CDJ with social media than we covered in this blog post. If you'd like more information on nurturing and generating leads with social media, schedule a 20-minute consult. No cost, no obligation and no pressure.