Turn LinkedIn Into Your
Most Powerful Branding Tool

Save time, money, energy, and get a LinkedIn presence that truly serves you.
Download the ultimate LinkedIn branding guide so you can build a strong personal brand,
position yourself as a thought leader, and raise your visibility on LinkedIn.

Helpful book from a brilliant author
Michael B. Knapp
This book is clear, concise, well written, and extremely helpful. At this time, LinkedIn is the key social media platform for small and medium sized business CEOs. This book will direct you, step by step, through the steps you need to take to master LinkedIn for yourself and your business. If you want to use LinkedIn to reach clients and to recruit you staff, I strongly recommend this book.

Immediately Usable Expert LinkedIn Information
Laurie Wiggins
Judy Schramm has written an ebook that provides easy to use tips and information on how to build a personal or company brand on LinkedIn. Drawing on many years of experience with all sorts of companies, she shows you how to improve your LinkedIn profile and attract the people you want to do business with or hire. I like her ebook because I can immediately apply the information to improve my profile within a few hours. Sometimes I wanted more information about a specific topic, but overall, I felt she covered the basics needed. I definitely recommend reading it and keeping it for future reference!

Must read for CEOs!
Barry Russell
Delivers a clear, concise roadmap for CEOs to understand the power and the possibilities of LinkedIn and ChatGPT. It helped me think through my own brand, but more importantly, each page gave me insights for my organization. Reading about best practices and what other CEOs do was useful. I was able to perceive opportunities for my team and the organization as a whole that have benefited us and helped us as we work towards our mission.
Use your LinkedIn profile to make people feel they know you, like you, and can trust you.
Discover the exact information you need to impress, build trust, and create opportunities, including:
✔ How to make your headline dynamic and exciting
✔ What stories should go in your About section
✔ Where to put keywords for maximum impact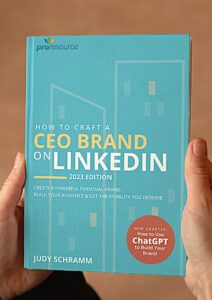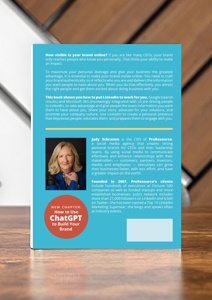 Fill your network with the people you want paying attention to you.
How to build your network in a strategic way that focuses on quality over quantity:
✔ Who to connect with
✔ How to introduce yourself
✔ How to follow up

Establish yourself as a thought leader and doors will open. More people take meetings, you attract better partners, and you recruit higher caliber employees.
Expedite this process on LinkedIn with:
✔ High-quality blogging
✔ Engaging video content
✔ Updates that share your insights