An Interview with Chris Yates
The launch of LinkedIn's new live video feature gives everyone the opportunity to share live video on LinkedIn. Should entrepreneurs and CEOs start taking advantage of this, and if so, how? I sat down with Emmy award-winning, multi-platform storyteller Chris Yates, CEO of Huddle Productions, to get tips on how CEOs – from the most camera-shy to the most willing subject – can use video effectively.
Judy: Do you believe LinkedIn is a good place to use videos?
Chris: I think anyplace is a good place to use video. You have to have video.
Judy: I hear from CEOs regularly who tell me they never watch videos, which makes them reluctant to do their own videos. Do you think that's true?
Chris: 59% of people say that if both text and video are available on the same page, they will choose video. It's the way people are communicating and what people expect.
Judy: Our clients have done many kinds of videos – talking head, interview, explainer, live action, animated PowerPoint. What kind of video do you think has the most power?
Chris: They are all great. Each has value in its own way. If you are at a live event, a live video is perfect. If you are interviewing someone who is dynamic and great to listen to, that has power. The right type of video depends on the subject matter, but generally videos with people are more effective than those without.
Judy: What are some of the ways CEOs should be using video, especially on LinkedIn?
Chris: My favorite for CEOs is a pretty easy one. Pick out industry topics that interest you, and explain those topics. You become a thought leader and people say "this person is really an expert and providing value to people in their industry."
Judy: What are the benefits of doing a "live" video vs. one that is professionally edited?
Chris: There's a lot more energy and immediacy in a live video. People want to be in the know when things are happening. They want to go to these live events or be in the back room with Mark Cuban. Being able to put them in the room makes them feel like they are in an inner circle and that's important.
Judy: What do CEOs need to think about when they are preparing to do a video?
Chris: The one thing I would recommend is: don't read from a teleprompter.  You may be trying to not make a mistake, to be perfect, but this is social media and viewers don't expect perfection. When you read from a script it comes across as a corporate press release. Viewers want the real person, not a polished, fake version. Natural is going to be much more effective.
Judy: What are the most common mistakes you see CEOs make in their videos?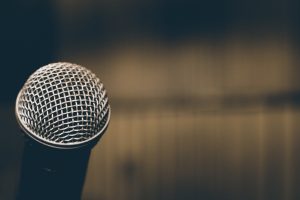 Chris: Two of the biggest mistakes involve audio and lighting.  Audio is the most important part. If your audio is bad, you are toast. Invest in Lavalier mikes. They can be in the $100 range but they're well worth it.
The second mistake is lighting. The light needs to be facing the person being filmed. If the sun is in the background, their face will be in shadow.  Make sure their face is well lit.
Also, bear in mind that if it's a talking head video, people get bored looking at one person. Keep in short. Unless you are an incredible speaker, people won't retain much of the information. One topic per video, focus on that topic, provide great information on that one topic.
Chris: If you don't have confidence it will come across in the video. If you're hesitant, do a voiceover, and cover with the company logo or photo instead. You don't have to be on camera. Just do audio only. After people have done a few that are audio-only they might feel more confident and then be ready to go on camera.
Judy: Do you have any suggestions for someone who is self-conscious about their age or weight?
Chris: It really comes down to their being comfortable with who they are and trusting in their knowledge and their role.
Judy: How about some tips for a CEO who is doing their first video?
Chris: You will suck the first time, but you will improve over time. You'll never be good at video if you never do one.
Judy: How long should a video be?
Chris: It depends on topic, but generally you want them 60 seconds or less. You can get a lot of info in 60 seconds. People are doing 30, 15 seconds. If you have a lot of good footage, you could go to 2 minutes. A live interview, with some back and forth, might go 7 minutes. But by 5 minutes 90% of your audience is already gone. A lot of people won't even watch when they see the length. You are better off keeping it short.
Judy: Is there any other advice you would like to share?
Chris: Video is the most powerful medium out there. When you show video compared to text it is shared 1200% more. People share more, watch more, it's the best way to share your message. You can take a complex problem and make it easy for people to understand on video.
Judy: Thank you so much, Chris! We really appreciate your sharing these tips.
Chris: My nickname is Moprah, male version of Oprah. I get people comfortable on camera. If anyone is interested in doing a video, my team and I are happy to help them.