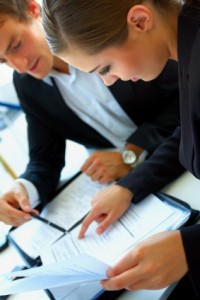 According to B2B Content Marketing: 2014 Benchmarks, Budgets and Trends, roughly 93 percent of your organizations do content marketing. Although you probably already use content marketing, it's important to define it as you'll see why in about six seconds. Content marketing is the practice of creating and sharing relevant and valuable content to acquire, maintain and engage your target market.
Many marketers mistake this to mean producing articles, reports, ebooks and blog posts talking about their products and services. This isn't content marketing. This is selling, or egocentric content marketing.
Content marketing also doesn't mean churning content or creating content from scratch every time. Content curation is just as valuable. MarketingSherpa has a case study in which a software company used curation marketing to grow its subscriber list by 130 percent in the first year and 70 percent in the second year.
Curation isn't just posting the title of the article and a link. Even on 140-character Twitter, effective tweeters find a way to add commentary about a curated article. In fact, there are six content curation strategies:
Abstracting: Using the first few sentences of the original article.
Summarizing: Writing a short summary of the original article.
Quoting: Sharing a quote from the original article and adding brief commentary.
Retitling: Writing a new title of the original article.
Storyboarding: Creating content by cobbling together articles from multiple resources and including commentary.
Parallelizing: Finding a connection between the original article and the curator's content when they may seem unrelated.
Done right, curation isn't plagiarism or copyright infringement. Re-printing an entire article without permission is stealing, but using bits and pieces isn't.
Curating involves searching for high quality articles on topics of interest to your market, quoting parts and writing your own commentary. This sounds overwhelming, but content curation software like the following makes finding, curating and sharing content manageable.
B2B Content Engine: Targeted to business-to-business (B2B) market, this software allows multiple team members or clients to select topics and publish them to blogs, social media, email newsletters and your company's branded content portal. You can write commentary, create original content using curated snippets, add calls to action to curated content and schedule posts for the week.
ContentGems: This platform monitors more than 200,000 resources to filter results based on your keywords, social signals, media type and custom sources for finding, selecting and curating curate content. You can add commentary and share curated content on social media and your website. ContentGems schedules posts and uses Bitly URL shortening service for analytics. Content of interest can be viewed online or sent as an email digest.
Curata: Technology finds content from a variety of sources and lets you tweak the sources to improve results. It also learns your preferences to better prioritize and categorize. Curata lists trending topics, recommends related content, archives curated content and provides metrics. The service optimizes content for mobile and publishes it to websites, blogs, social media and email newsletters. They have a bookmarklet for one-click curating of articles and videos.
Eqentia: In addition to curation, Eqentia's enterprise platform offers text mining, real-time aggregation, semantic extraction and rule-based knowledge discovery. The company also has Personal Stream, a curation tool that shares curated content on social networks, blog and with followers. Users can also explore content channels, create a personalized news page, search news and annotate content.
Whether you curate content or create your own, content marketing must be relevant and useful in order to get results. The information you share helps make your market more knowledgeable. Before sharing, ask yourself: Will my clients and prospects walk away learning something new? If the answer is no, revise your content until you get to yes.
Not all content needs to be actionable or something your market can apply to their lives. Content covering trends, for example, tells them what their counterparts or industry is doing. This is new information (more knowledge) and it lets them know what's happening. They may consider changing behavior on the trend or they may not.