By Jen Hitchcock
Fortune 500 (F500) CEOs belong to an exclusive club where every member carries impressive credentials. But not all F500 CEOs maximize the value of having a vibrant presence on the world's largest professional social media site, LinkedIn.
In a business world where numbers of subscribers and followers are measured in the millions and the billions, LinkedIn's digits are pretty hard to ignore. However, the professional networking site — and its 690 million members — clearly register with some of the savviest of F500 CEOs.
The most intriguing profiles focus on creativity, values of both a personal and professional nature, clear communication, employee engagement, and a vision for the future. Their LinkedIn pages are where these CEOs stand apart from the crowd.
These CEOs make those statements in a lot of different ways: colorful visuals, personal anecdotes, corporate social responsibility goals, and sometimes, just some plain old-fashioned fun. And here, we're weighing in on the F500 CEOs whose profiles shine the brightest:

Let's Talk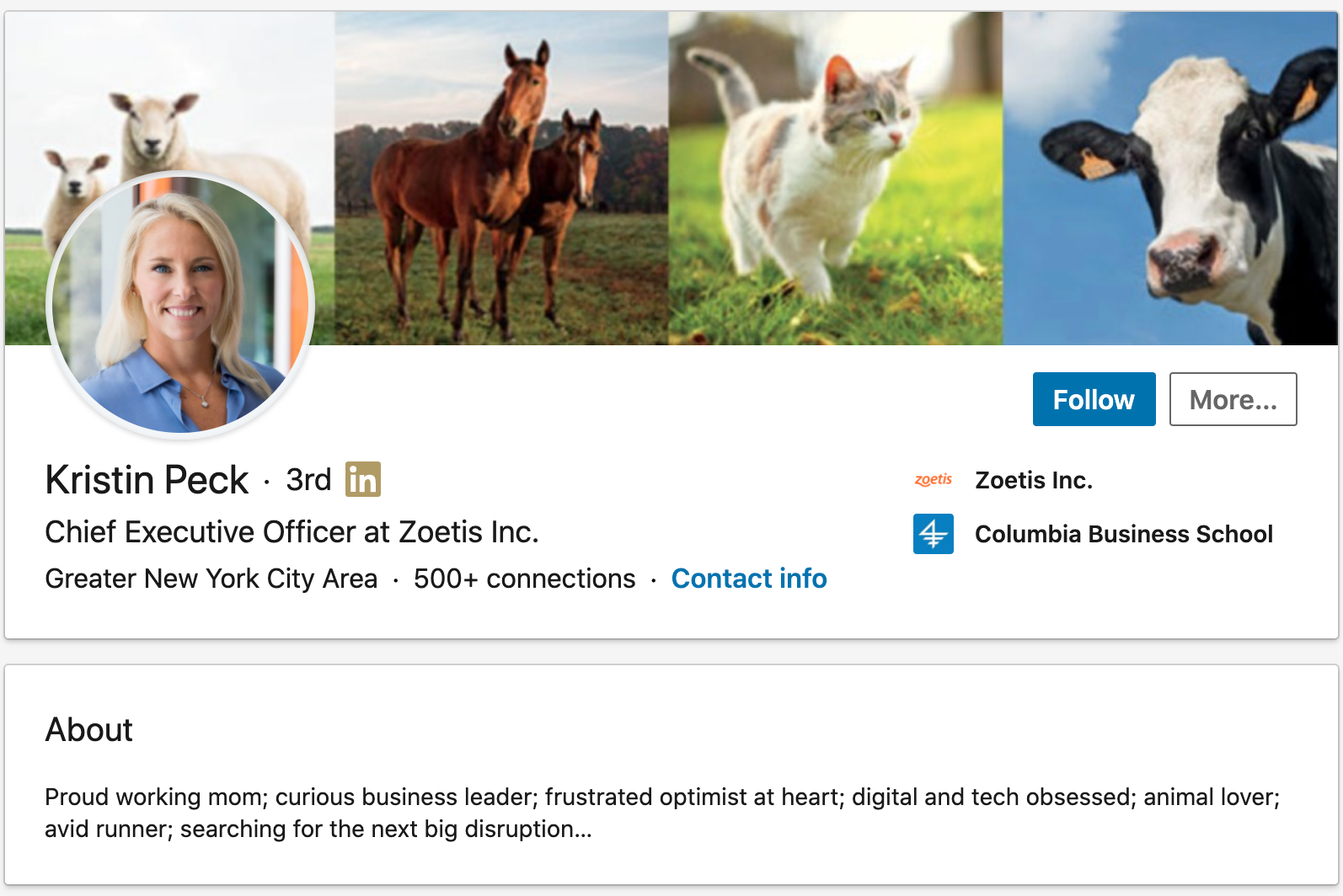 Kristin Peck, of the animal health company Zoetis, keeps her About section short and sweet, yet also very personal.
LinkedIn is a professional platform laser-focused on business and employment, yet every successful CEO has a background with life experiences that have shaped their values and drive their success. It's that passion that catapulted these leaders to the F500 list in the first place.
Not everyone wants to share such personal details, and understandably so. Yet there are still great stories to be told so visitors to a LinkedIn profile come away with a sense of what it's like to work with that CEO and the company they lead.
Ken Lamneck, CEO and President of Insight, uses his About section to explain how his military service fueled his interest in technology.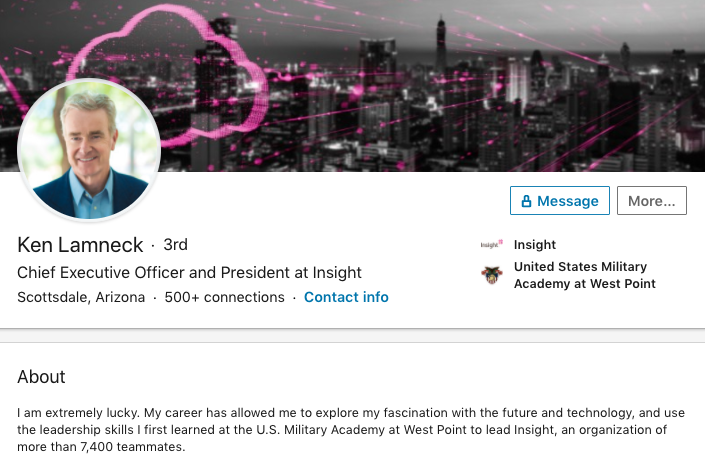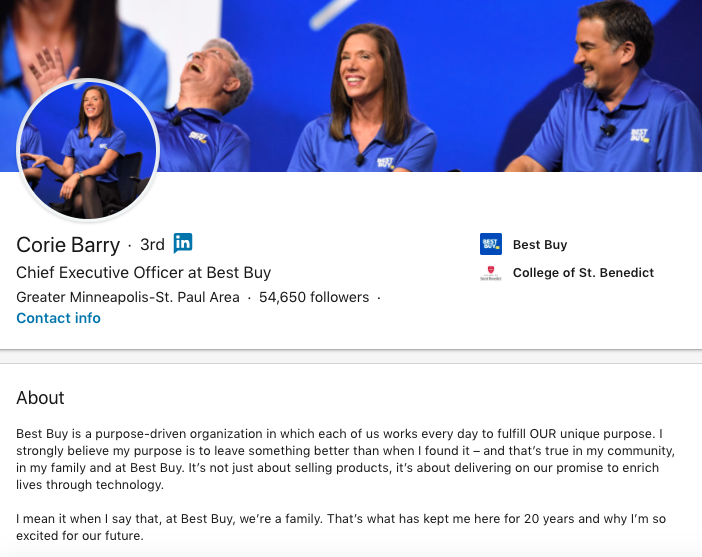 Best Buy's Corie Barry keeps personal details under wraps, but still highlights her company as "purpose-driven" and refers to the company culture as "a family." In crowded marketplaces, F500 CEOs leverage core values as a part of their own value.

Eye of the Beholder
Fortune 500 CEOs making a splash on LinkedIn also know you can't ignore appearances. With creative graphics, engaging profile photos, and sleek design, winning CEOs look good online.
What catches your eye? Is media pleasing to the eye? Intriguing? Does the visual help tell a story? Visual opportunities abound on LinkedIn.
The LinkedIn header graphic presents an opportunity to brand a profile, share personal details, or enhance statements made in an About section. The graphic can also be timely, like the visual Kirt Walker from Nationwide uses on his page, referring to the COVID-19 pandemic.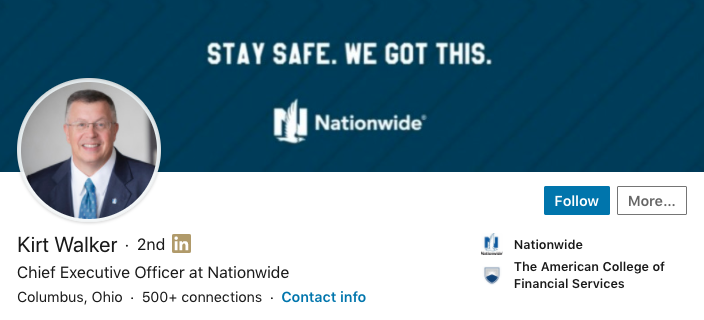 Chris Nassetta from Hilton uses his header graphic to promote the Hilton brands and showcase his employee engagement. His profile photo replaces the traditional boardroom headshot with a Steve Jobs-like picture of Nassetta at a speaking engagement.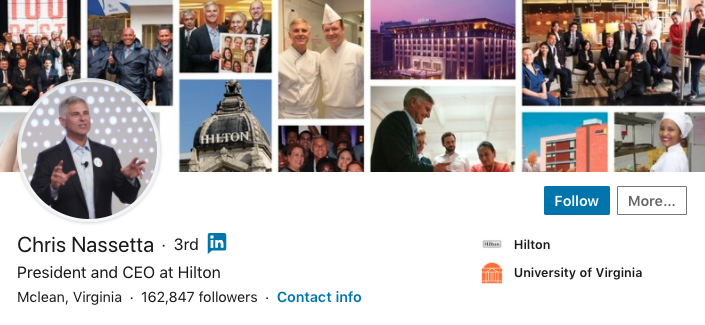 These pictures develop Nassetta's image as a thought leader who is connected to the workforce. He is seen as being down to earth, yet dynamic, and a good communicator. Yes, all that from a few photos.
IBM's Arvind Krishna's header graphic is eye catching in its simplicity, but there's also company history found in the bee-themed logo. Designed in the 1950s, the rebus puzzle reflects the company's desire to integrate quality products with modern design. Krisna eschews the suit and tie, although he is still wearing a jacket in his profile photo. His warm smile, open-necked shirt, and non-traditional background convey confidence and approachability. And the retro header graphic reveals he likes to have a bit of fun.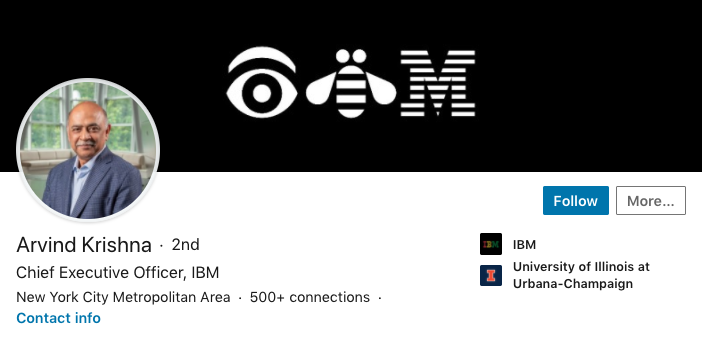 As the CEO of a farmers' cooperative, Beth Ford leverages her header graphic to represent Land O'Lakes' agricultural business and incorporate both her personal, and Land O'Lakes' professional, commitment to rural communities.
Her profile photo paints the picture of a healthy, responsible, and confident CEO.

What's in a Headline?
Of course, Fortune 500 CEOs use more than images to send messages on LinkedIn.
Top and center on a LinkedIn profile is the headline (the 220 characters under the executive's name). In our survey, we found that most F500 CEOs use their job title in their headline. And why not? They carry great titles! But others use the headline to send a message about the passions that drive them inside — and outside — the boardroom.
Hikmet Ersek's headline highlights Western Union's value proposition, as well as both Ersek's personal values and WU's corporate social responsibility agenda. His headline states: "Driving digital transformation for global money movement & payments company. Advocate for diversity, migrants & refugees."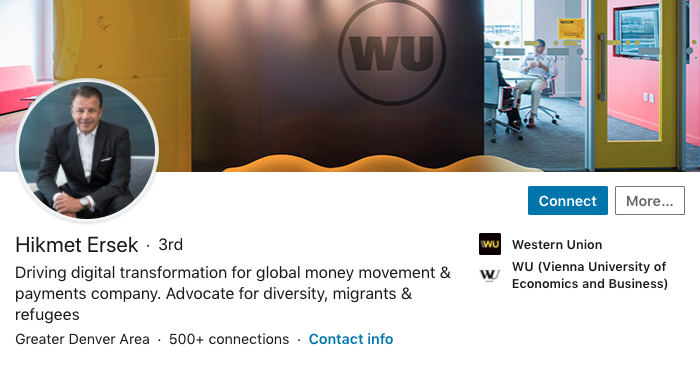 The headline also uses keywords specific to Ersek's industry, a bit like search-engine-optimization for LinkedIn profiles. Above all, it's informative. Even if viewers only see his warm, casual photo and action-packed headline, they'll leave his profile with the impression of an engaged, intelligent, and committed CEO.

Take a Stand
Executives on LinkedIn want to amplify their corporate message. Some F500 CEO profiles we analyzed produce content (such as blog posts) unique to LinkedIn. Other CEOs use their posts to drive traffic to their corporate websites, where the bigger picture is represented.
David Taylor's blog posts are unique to his LinkedIn page, yet amplify the messages being shared by Procter & Gamble on other digital channels.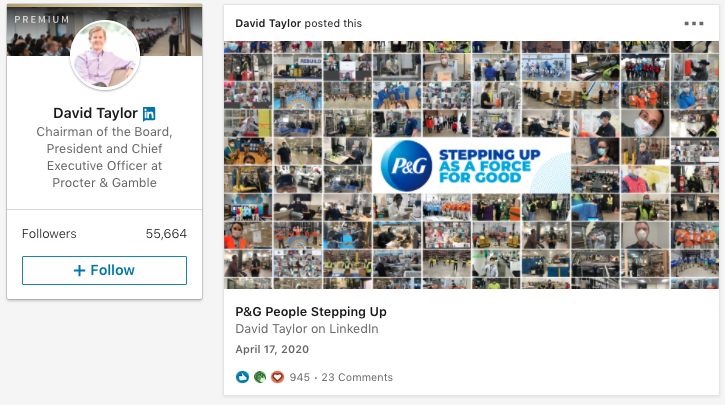 Bradley Jacobs also crafts LinkedIn-specific articles, and he utilizes a fairly new profile section called "Featured." According to LinkedIn, users can pin posts, blogs, videos, or documents to the top of their profiles "to showcase your work to people who view your profile in a more prominent way."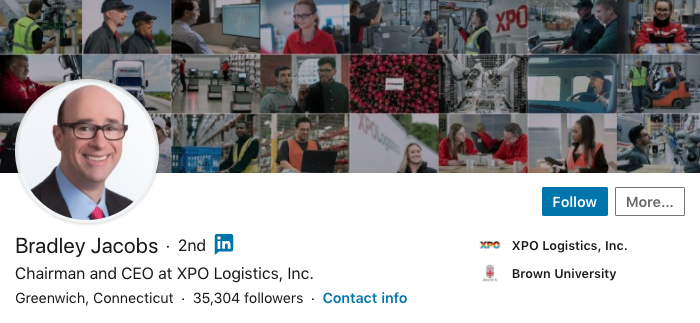 (Take a look at Jacobs' entire profile. He checks many of the boxes we've covered so far: an engaging and visual header graphic, a warm profile photo, and an About section that talks about his personal professional motivation.)
Larry Fink at BlackRock isn't afraid to use his social media posts to take a stand on sensitive issues. He tackles the Black Lives Matter movement and COVID-19 in his LinkedIn posts.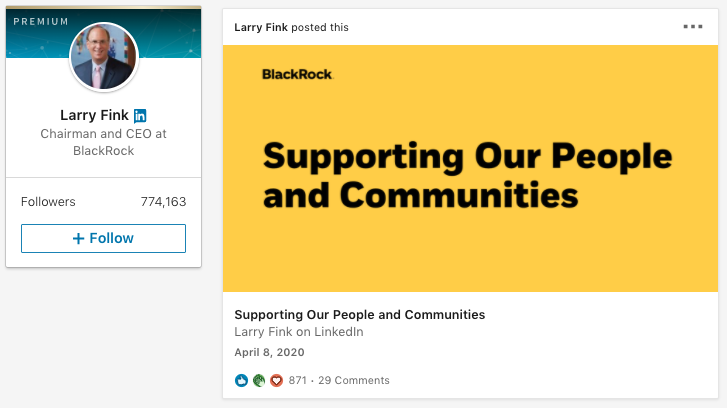 It's impossible to completely separate personal and professional ideals, nor should anyone try. Mary Barra of General Motors has a knack for finding that perfect space to combine humanity with business.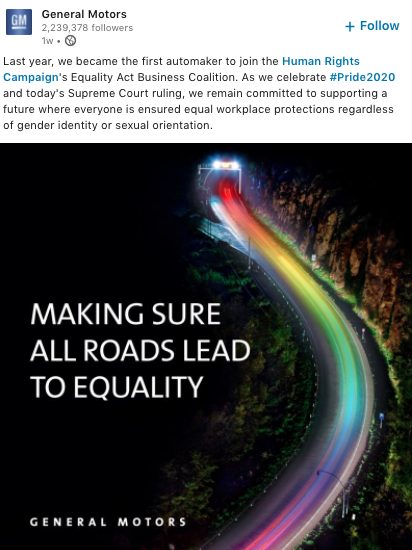 She celebrates Pride, and she wears a mask during the COVID-19 pandemic. Barra also promotes sustainability and equity, and she encourages recent graduates. She weaves humanity into a behemoth corporation.

What's in a Number?
The number of a CEO's connections is often not readily apparent. Many sophisticated users often hide the number of their connections or only display that number to first-degree connections.
LinkedIn also allows users to follow profiles on LinkedIn without actually being connected to that person. In fact, LinkedIn encourages this with its Influencers program. Influencers are designated by LinkedIn as industry leaders who are active on the site. Following an Influencer will place their public posts in a user's news feed. That number is displayed as a Following, which doesn't represent the number of connections.
Jamie Dimon of JPMorgan Chase & Co. is an official LinkedIn Influencer with over 1.2 million followers.
What an audience! Not naming names, but many other Fortune 500 CEOs in financial services have zero presence on LinkedIn! That's like throwing money, and a captive audience, away.
But don't get too hung up on the Influencer label. While not a LinkedIn-designated Influencer, more than 23,000 people follow ViacomCBS's Robert Bakish on LinkedIn. (Plus, look at his header graphic — there aren't many opportunities in the professional world to combine SpongeBob SquarePants and Stephen Colbert.)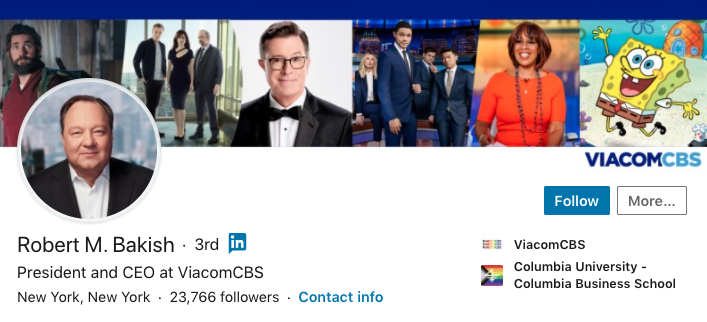 Missing from LinkedIn
According to Target, 75% of Americans live within 10 miles of a Target store. So why can't we find CEO Brian Cornell on LinkedIn? What a missed opportunity!
As a company, Target does an amazing job on LinkedIn posting a mix of uplifting stories, news related to corporate social responsibility, responses to world events, highlights of employee development and personal achievement, plus so much more. How powerful would it be to see Cornell tell some of those stories?
And then there are the obvious LinkedIn-absentees. Mark Zuckerberg of Facebook. Twitter's Jack Dorsey. They give no FaceTime or tweets to a competitor.
Some CEOs simply prefer other social media channels. Jeff Bezos of Amazon and Elon Musk of Tesla are tweeters. Yet other CEOs who prefer Twitter don't completely ignore LinkedIn.
Take a look at Chuck Robbins of Cisco, for example. A top trait of F500 CEOs is the ability to be decisive, with clear and definitive speech — and that fits Robbins to a T.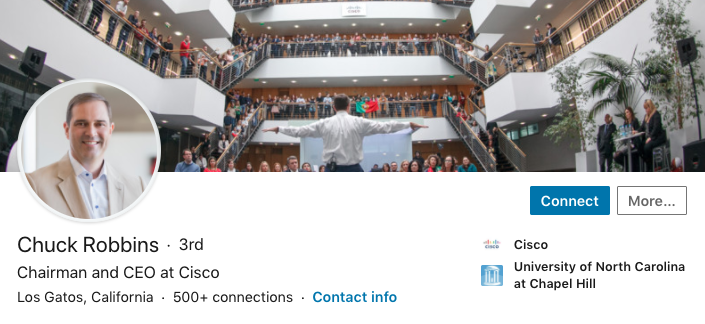 As every social media platform has a personality, Twitter serves as a better fit for Robbins' leadership style. But he doesn't ignore LinkedIn. He maintains a presence on LinkedIn while ruling the F500 roost on Twitter. Robbins uses LinkedIn to amplify his messages on partnership and how technology can create positive impacts in communities.
Plain absent from LinkedIn is Berkshire Hathaway's Warren Buffet. But what can we say? He's Warren Buffet. Bow to the business master.

Weighing the Results
When weighing the loose change in a pocket, some coins — despite their size — are more valuable than others. When it comes to social media and LinkedIn, quality reigns over quantity, and the Fortune 500 CEOs we've highlighted produce top-notch engagement via LinkedIn. Fortune 500 CEOs with a golden glow on LinkedIn are not only chief-executive-officers, but also chief-executives-online.

Honorable Mentions
We've highlighted the ones we like best, but there are many F500 CEO standouts on LinkedIn. Other impressive profiles include:
Profile photo, Graphic, Featured, personal About, timely posts: Rodney McMullen, The Kroger Co.; Roger Crandall, MassMutual; Dan Schulman, PayPal; Hans Vestberg, Verizon; Rod Martin, Voya Financial; Kristin Peck, Zoetis Inc.
Profile photo and Graphic: Ramon Laguarta, PepsiCo; Albert Bourla, Pfizer
Profile photo: Michael Rapino, Live Nation Entertainment; Chip Bergh, Levi Strauss & Co.