Picture an active LinkedIn user. Perhaps, it looks like you. You interact in all the right Groups. You post regular updates under both your personal and company profiles. You even publish LinkedIn blog posts.
It's possible to do all this and still not being making the most of your LinkedIn lead generation activities. All of these activities require the prospect be proactive: go to your profile or company page, visit the Groups you've joined, and catch your LinkedIn posts.
The challenge is reaching many of those prospects who don't follow you and may not be proactive. They miss your updates, your comments in Groups, and your brilliance in your blog posts. There's a way to fill in this gap. Do it with Sponsored Updates and LinkedIn Ads.
Rather than waiting for prospects to come to you, your blog posts go to them. The magic happens through LinkedIn's powerful targeting options. You get more targeting choices than Google and Facebook.
Google ads appear to anyone who types a certain word combination. It easy for anyone to enter your ad's word combination and not be the person you want to reach. That's an ad wasted on someone who doesn't fit your ideal client profile.
Facebook lets you select demographic information, but it's more consumer-oriented than business.
As an example, here are Facebook's targeting options:
Interests, such as autos, education/teaching, health and well-being, movies, pets, and sports.
Behaviors, based on the things they like to do or actions they take such as liking a certain type of business or how and what they purchase.
Education level, fields of study, and graduation years.
Connections, which indicates whether you want to serve ads to current or non-current connections.
Location, including countries, states, provinces, cities, zip codes, or post codes.
Demographics (age and gender).
Facebook can look for the following types of business purchases:
Business marketing.
Maintenance, repair, and operations.
Office and corporate gifts.
Training and publications.
While some of these options can prove useful, they lean heavily towards consumer behaviors and purchases. You can't target by industry or job title, two important options for B2B technology companies.
As Image 1 shows, LinkedIn Ads lets you target by:
Job title and function.
Industry.
Company size.
Seniority.
Geography.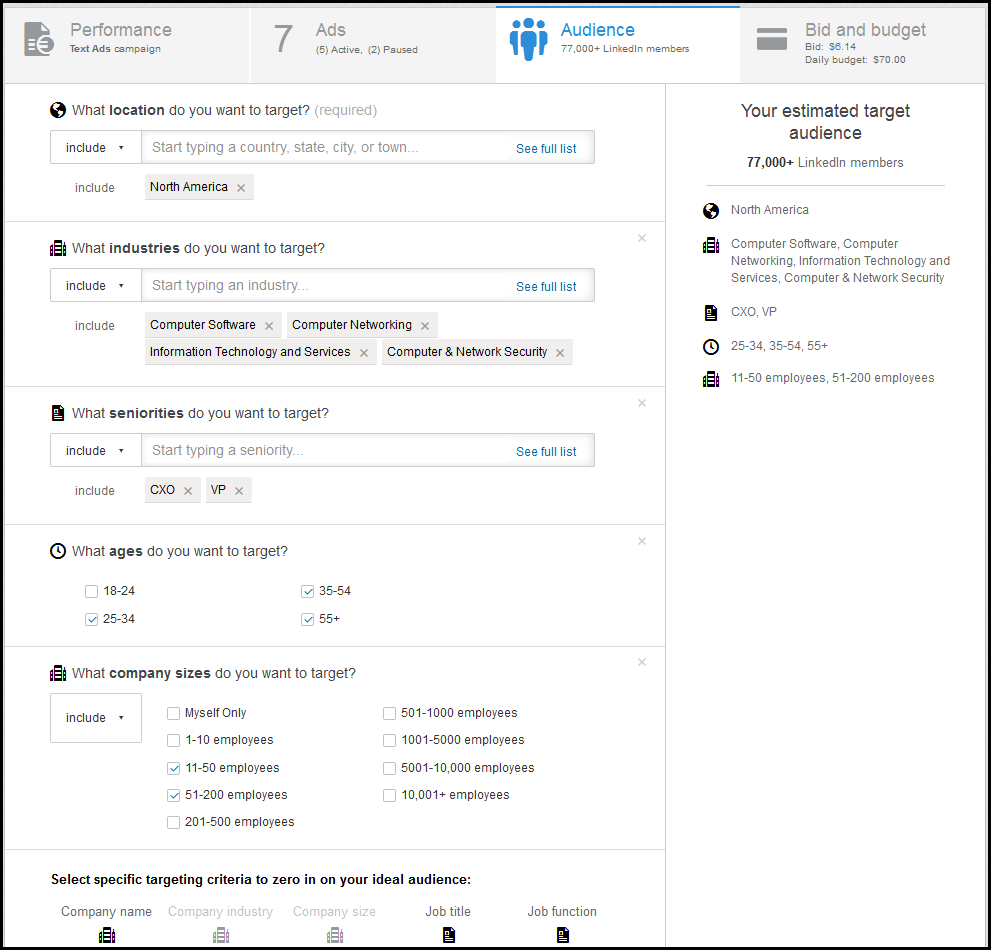 The other helpful thing about LinkedIn is that as you select each parameter, it shows you the estimated size of your target audience. You can adjust the parameters until you're happy with the target size.
Advantages of Sponsored Updates
If your company already publishes updates on its Company Page, you can simply pick an update and turn it into a Sponsored Update. These appear in your specified target audience's newsfeed, helping you reach a broader audience of people who may not otherwise see your content. Because Sponsored Updates are based on useful content, they have a greater chance of being noticed and read.
LinkedIn provides statistics on each company page update, so you can figure out which ones have more clicks and interactions and select those as Sponsored Updates. LinkedIn reports separate statistics for organic and Sponsored Updates so you know how your Sponsored Updates performed without the organic information skewing the data. Image 2 shows an example of Sponsored Updates reporting.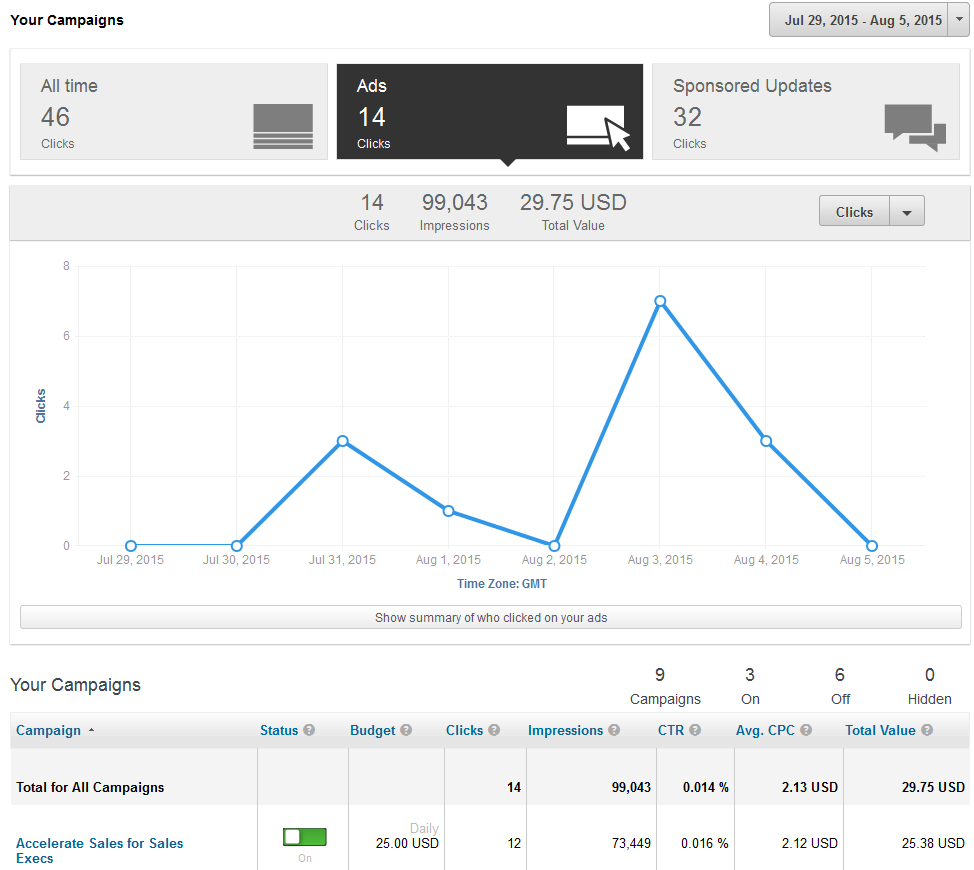 Advantages of LinkedIn Ads
For LinkedIn Ads, you have the option of doing either pay per click (PPC) or pay per 1,000 impressions. These contain a 25-character headline, a 75-character tagline, and a web address. You're more likely to get a bigger bang from PPC when you think of them as a layer in building your online profile. However, you may not get many clicks because most people ignore text ads.
Say what? It sounds counterintuitive. But stay with me here. Most products and services are complex and need more than 100 characters to pull your prospect in. If you pay by click and bid just right, you can get your name out there in front of people you want to reach … free.
LinkedIn will let you know the number of impressions, or the number of pages your ad runs on as shown in Image 3. As a result, your brand will start seeping into your targets' brains, thereby building name recognition for practically nothing.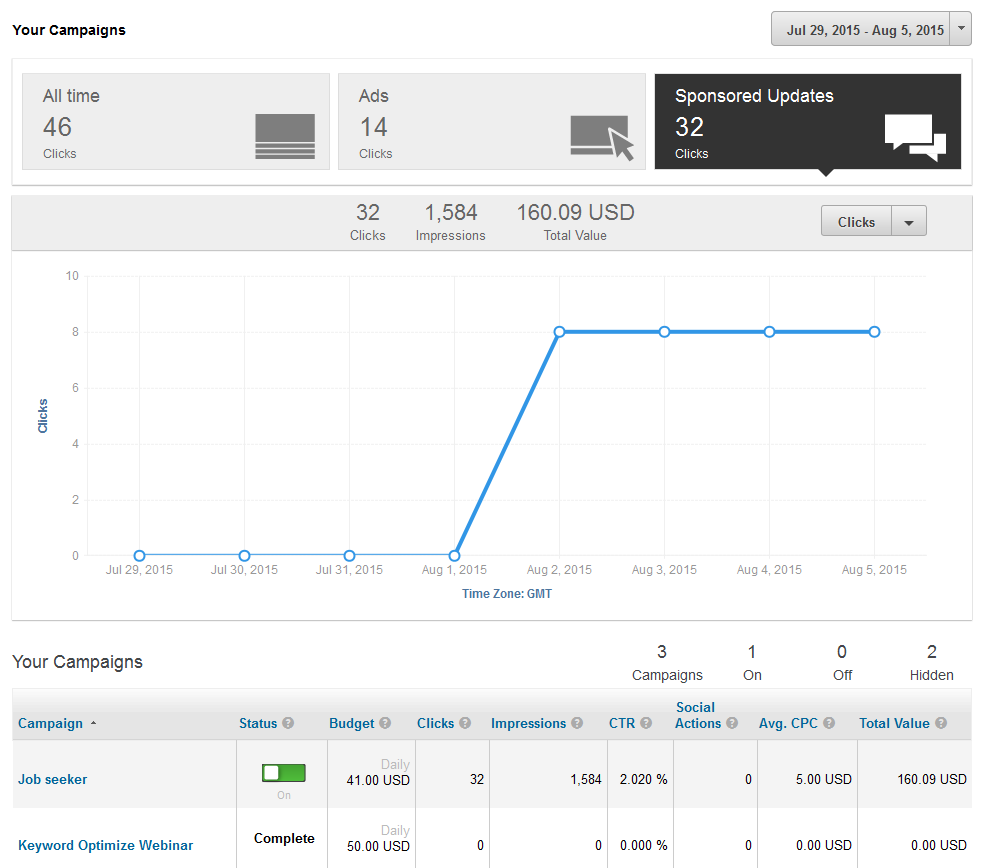 It's less complicated to play with the ad settings on LinkedIn than on Google. You can tinker with the target audience and how much you bid. You can also adjust total budget and end dates for running the ads.
What sort of audience would you target for your business?
Next week, I'll talk about budgeting and bidding for ads on LinkedIn.