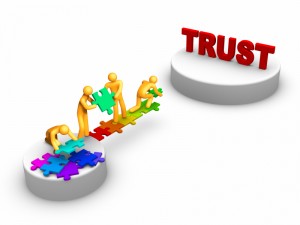 Buyers don't just look for a solution. They're also looking for a business partner and someone they can trust.
The foundation of any business relationship is trust. It's easier to build trust when you can look someone in the eye and shake hands. It's harder to do online.
But there are techniques you can use online to make it easier to build trust and develop a deeper relationship. When you do those things systematically and strategically, you can arrive at a position of trust faster. Making the effort to do this will bring a big difference to your business success.
Three things make up the basis for trust. You want to show people that you are:
Reliable,
Likeable and
Competent.
Most people emphasize the last one, but the world is full of competent people. It's being reliable and likeable that really makes the difference.
Of course, you need to be authentic. If you aren't actually reliable or competent, you don't want to pretend you are. (We know you're likeable!)  But assuming that you are competent, reliable and likeable, how do you show that? How can you make it easier for people to see that you are trustworthy online?
Here are five ways to build trust online:
Some people use trust as a tactic, but it won't come across as sincere. Buyers can sense a difference between someone whose main objective is winning and someone who puts the client's interest first. "When your only focus is to win, customers become objects, tools for achieving that goal. And customers don't care to be treated that way," writes Charles H. Green, author of Trust-Based Selling.
If you follow the steps above, in an authentic way, you'll find it easier to build strong business relationships online, and easier to make sales and get referrals.
Building Trust Online Series