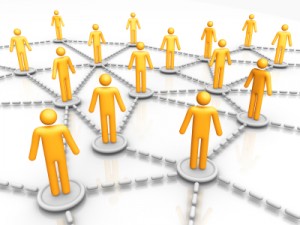 Although many financial advisors would like to get out there in social media, they've been cautious and with good reason. A July 2013 SEI poll of 200 advisors has found less than a third of respondents use social media.  They're concerned about broker dealers, regulatory compliance, time and cost, archiving of social media activities and coming up with content.
Yet they know the value of social media for building relationships with clients and industry thought leaders, communicating with investors, reducing marketing costs and increasing sales. A lot has changed as regulatory organizations have issued guidelines to help financial advisors jump in the tricky waters of social media without going out of bounds.
Social Media Regulations for Financial Services
FINRA (Financial Industry Regulatory Authority) has issued Regulatory Notice 10-06, Guidance on Blog and Social Networking Web Sites. It has also issued Regulatory Notice 11-39, Guidance on Social Networking Websites and Business Communications to cover the questions not addressed in 10-06. Those two FINRA notices and FINRA Rule 2210 especially 2210(c)(6), which addresses the spot-checking of social media communications help financial services firms ensure they comply with FINRA regulations.
SEC's 2008 Guidance on the Use of Company Web Sites also applies to social media. What's more is that the SEC embraces social media. The SEC states firms can use social media as long as they make their social media plans clear to investors and that they don't share information that would give any investor an unfair advantage.
Just like firms must adhere to fair-disclosure rule in all communications, it also applies to social media. Still after reading these guidelines, financial advisors may be throwing up their arms in frustration not knowing where to begin.
Start with three simple steps: Create a social media policy, undergo training and archive all online activities.
1. Create a living social media policy.
Since social media continuously develops, this living document needs to evolve with it and adapt to regulation and technology changes. A social media policy identifies the financial service firm's goals for using social media, policies and procedures for using social media, outlines who can represent the firm in social media and lists the social media platforms supported and how each is used.
Review and address all of the points in aforementioned guidelines in the social media policy. It's important to keep revisiting the policy as you would a business plan. As a financial services firm gains experience in using social media, it can revise the policy based on best practices and lessons learned.
2. Receive social media training.
This isn't a one-time deal. Just like doctors and teachers undergo specialized training to keep up their knowledge and skills, financial advisors need to undergo social media training that covers the latest regulations, what content they can and can't share online, the firm's policy and social media best practices.
3. Archive all social media content and activities.
Archiving is a FINRA requirement and the firm needs to create a process for archiving all online content before communicating online. Archives include social media URLs, posts and updates. It also helps to have time-stamped entries for easier archive searches.
With the available social media guidelines and resources, financial services firms need not be afraid to connect with the big world of social media where many clients, investors and prospects await.
Related resources
FINRA Rule 2210: http://finra.complinet.com/en/display/display_main.html?rbid=2403&element_id=10648
FINRA Targeted Examination Letters – Re: Spot-Check of Social Media Communications: http://www.finra.org/Industry/Regulation/Guidance/TargetedExaminationLetters/P282569
National Examination Risk Alert: Investment Adviser Use of Social Media: http://www.sec.gov/about/offices/ocie/riskalert-socialmedia.pdf [PDF]
SEC Says Social Media OK for Company Announcements if Investors Are Alerted: http://www.sec.gov/News/PressRelease/Detail/PressRelease/1365171513574#.UhTmY6zhJgc
SEC Issues Guidance Update on Social Media Filings by Investment Companies: http://www.sec.gov/News/PressRelease/Detail/PressRelease/1365171513280#.UhTmZazhJgc