Entrepreneurs dream about building "unicorns" — startup businesses so successful they reach a valuation of over $1 billion. As of December 11, 2019, there were only 213 such companies in the United States. We took a look at how the CEOs of these organizations are leveraging LinkedIn to build their personal brand.
11 Best Unicorn CEO LinkedIn Profiles
Many of the CEOs have dynamic and well-written LinkedIn profiles, so it was a challenge to choose the very best. We narrowed the list down to the top 30, and then we used our LinkedIn ProScore methodology to rank them.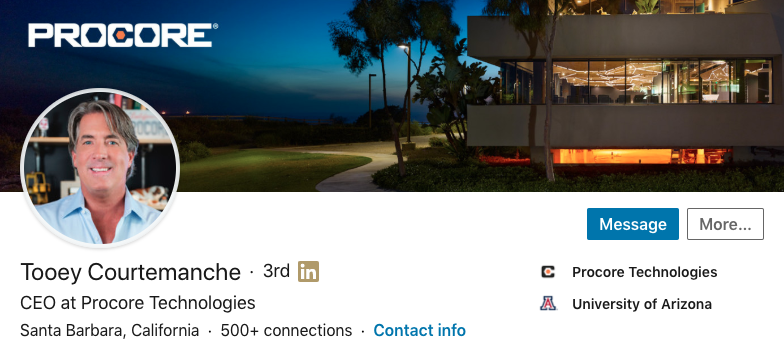 Tooey Courtemanche, CEO at Procore Technologies, takes a creative approach with his About section — he starts with an unconventional sentence fragment and tells the story of how and why he started Procore. He gives readers great insight into his personality and values. This theme and conversational tone carry into his job description at Procore and into the articles that he posts on LinkedIn. (LinkedIn ProScore: 86)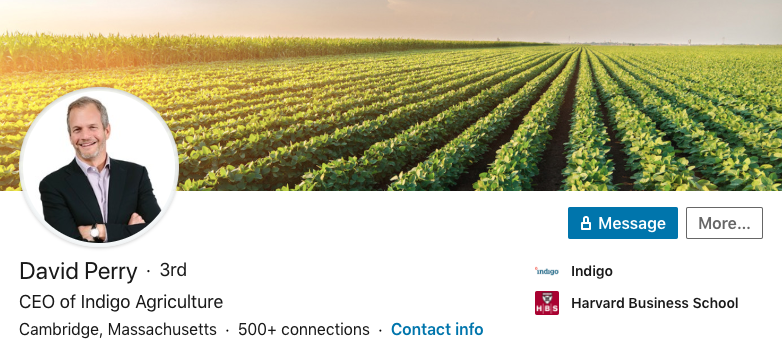 David Perry, CEO at Indigo Agriculture, immediately grabs your attention with a bright and colorful header graphic. The photo of crops on a farm frames his headshot and makes it stand out. His About section is short and to the point, and it highlights his most impressive accomplishments. A string of founder and CEO positions in his Experience section tells the story of a successful serial entrepreneur, and his customized url (davidperryentrepreneur) reinforces that image. (LinkedIn ProScore: 85)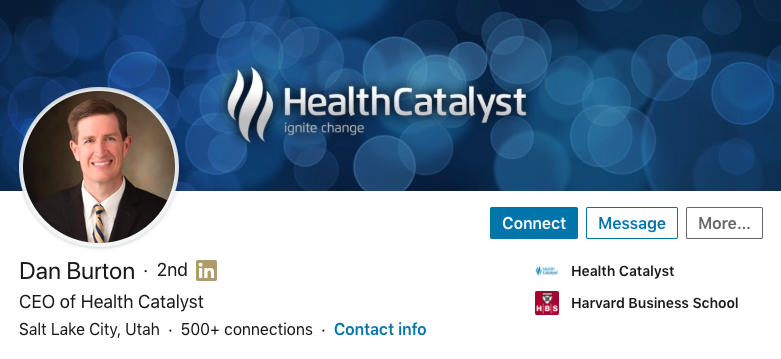 Dan Burton, CEO and Board Member of Health Catalyst, tells stories in his profile. He explains how he became involved with Health Catalyst when it had only three employees, and then he goes on to talk about his contributions to the organizations where he has worked, advised, or volunteered. (LinkedIn ProScore: 82)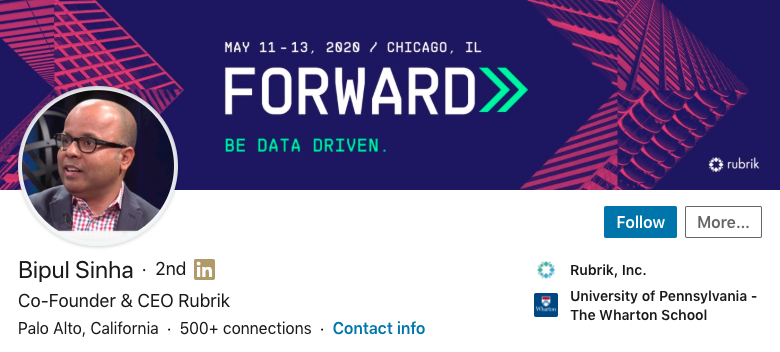 Bipul Sinha, Co-founder and CEO at Rubrik, includes 16 videos in his profile so visitors can better appreciate his vision and the traction the company has achieved. His About section is simple and compelling, positioning him as a successful entrepreneur and investor. (LinkedIn ProScore: 81)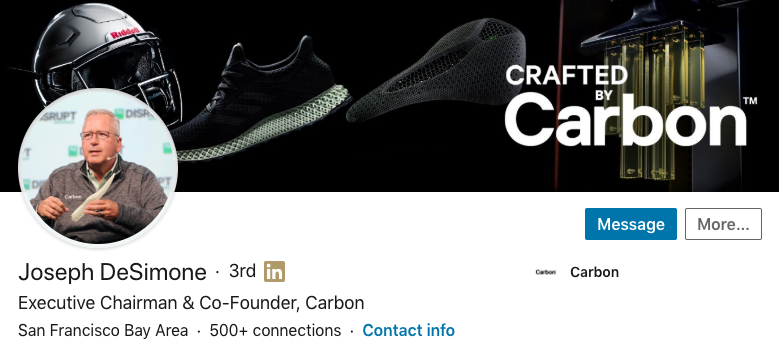 Joseph DeSimone is the Executive Chairman and Co-founder of Carbon. His LinkedIn profile is an impressive example of how to demonstrate authority in a field. His About section shows that he has published over 350 scientific articles, and there is a link to one of the more accessible articles. This section also notes that he has 200 patents — and 200 more patents pending. When you scroll down to his Accomplishments, it lists 15 prestigious technical awards. (LinkedIn ProScore: 78)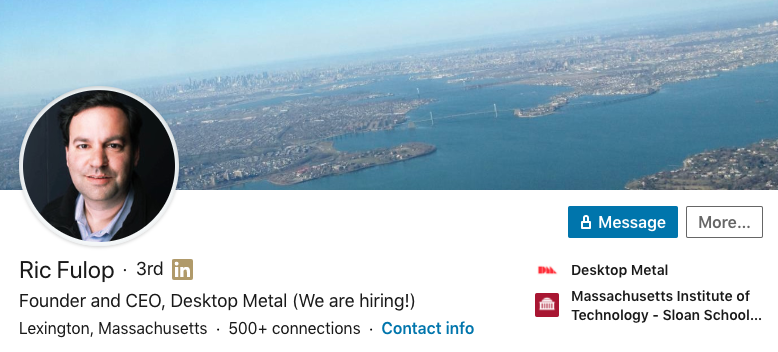 Ric Fulop, Founder and CEO of Desktop Metal, also presents an accomplished persona in his LinkedIn profile: founder of 7 technology companies, 32 patents, 11 honors and awards, and 5 languages. The description of each job in the Experience section is short and simple, but also impressive, with details about investment rounds and acquisitions. (LinkedIn ProScore: 78)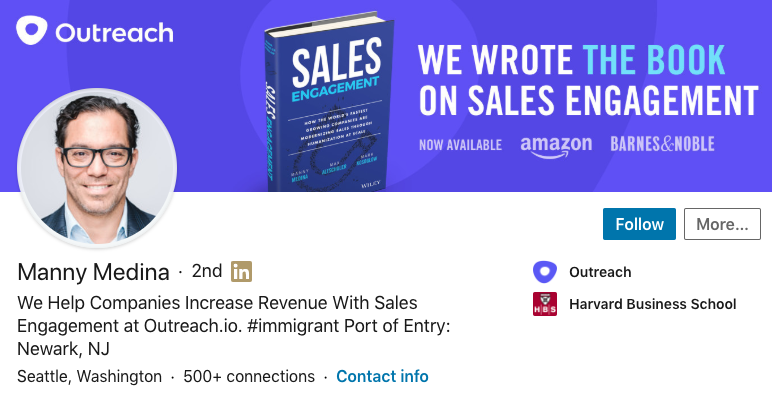 Manny Medina, CEO of Outreach, has a header graphic that features a book he co-authored. He states the company's value proposition in his headline and also mentions that he is an immigrant, along with his port of entry. (LinkedIn ProScore: 78)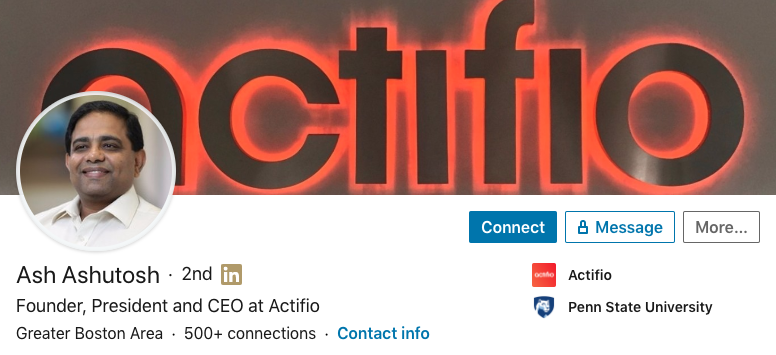 Ash Ashutosh, Founder, President, and CEO of Actifio, keeps his explanations short and simple while he effectively articulates the company's value proposition. He has a vibrant header graphic, lists many skills and endorsements, and actively engages with his network. (LinkedIn ProScore: 77)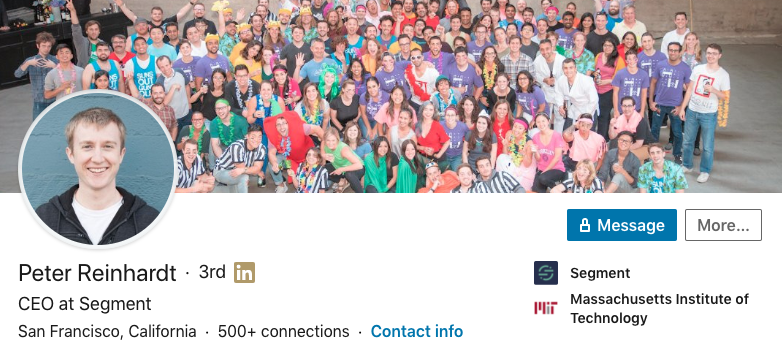 Peter Reinhardt, CEO at Segment, uses a colorful photo of his team as his header graphic. His About section is amusing and reflects his personality — after a short explanation of what Segment does, it states that he would like to go to space someday and that he loves cheese. The descriptions for his previous jobs and education are interesting, sharing what he accomplished and providing more insight into his personality.  (LinkedIn ProScore: 77)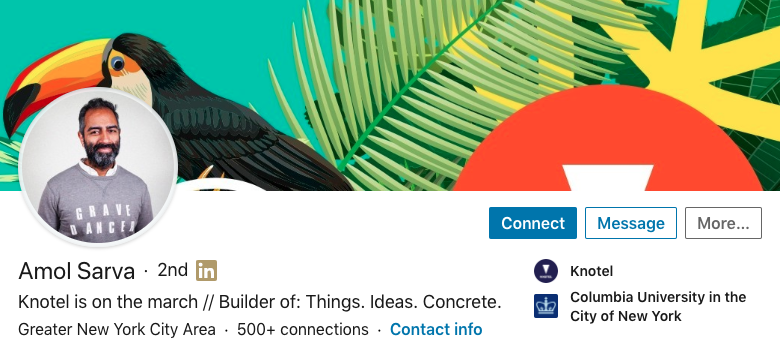 Amol Sarva, CEO of Knotel (and two other startups), was mistakenly left off this list when it was first published. Once we scored his profile, it was clear that he belonged in what is now the Top 11. His experience section lists 10 current positions (three startups, on the faculty at Columbia, an investor/director or advisor to 4 companies and a mentor to still more), as well as several successful exits, creating an impressive profile of a serial entrepreneur. He differentiates himself with a colorful header graphic, interesting headline, and unusual about section, where he encourages the types of people he is interested in to contact him – including inviting women in tech to connect with him so his network is better balanced. (LinkedIn ProScore: 76)
Steve Arhancet, Co-CEO and Owner of Team Liquid, has an unusual headline: "Get shit done, think big and have values." His About section shares the company's traction, a rich Volunteer section shows how he gives back to the community, and a long list of published articles makes it easier for visitors to learn more. (LinkedIn ProScore: 76)
Runners-up
While these CEOs don't score as highly as the top 11, they have excellent LinkedIn profiles that are creative and interesting to read, and do an excellent job of branding the CEO and promoting the business.
Daniel Schreiber, CEO & Co-founder of Lemonade Inc. (LinkedIn ProScore: 75)
Christian Lanng, CEO and Chairman of Tradeshift (LinkedIn ProScore: 73)
Ramin Sayar, President and CEO of Sumo Logic (LinkedIn ProScore: 73)
Ariel Cohen, CEO and Co-founder of TripActions (LinkedIn ProScore: 72)
Jay Fulcher, Chairman and CEO of Zenefits (LinkedIn ProScore: 72)
David A. Steinberg, CEO of Zeta Global (LinkedIn ProScore: 71)
Ara Mahdessian, CEO of ServiceTitan (LinkedIn ProScore: 70)
George Kurtz, CEO of Crowdstrike (LinkedIn ProScore: 67)
Bryan Leach, Founder and CEO of Ibotta, Inc. (LinkedIn ProScore: 67)
Max Levchin, Co-founder and CEO of Affirm, Inc. (LinkedIn ProScore: 66)
Cesar Carvalho, Co-founder and Global CEO of Gympass (LinkedIn ProScore: 62)
Unicorn CEOs Are Active and Engaged on LinkedIn
As a group, unicorn CEOs are far more involved in LinkedIn than Fortune 500 CEOs. Ninety-seven percent of unicorn CEOs have LinkedIn profiles, compared with just 52% of Fortune 500 CEOs.
More than half (54%) of the unicorn CEOs are actively engaged with people on LinkedIn, compared with 22% of the Fortune 500 CEOs. If you only consider the CEOs who have LinkedIn profiles, the two groups are closer, but the unicorn CEOs are still ahead: 42% of the Fortune 500 CEOs who have profiles are active, compared to 56% of the unicorn CEOs.
However, the Fortune 500 group leads when it comes to publishing blog posts on LinkedIn. Thirty of the unicorn CEOs published at least one blog post in 2019, compared to 71 of the Fortune 500 CEOs. Almost two-thirds of the Fortune 500 CEOs who are on LinkedIn blogged in 2019!
Unicorn CEOs with the Most Followers
We couldn't get a completely accurate count, however, because 53 CEOs have profiles that list their follower count as 500+. We counted them at 500, although the actual number is likely higher. And five of the CEOs, including Elon Musk, suppress their follower count — so they could not be included.
Only nine of the unicorn CEOs have fewer than 500 followers. On the high end, six unicorn CEOs have more than 50,000 followers!
Emptiest Unicorn CEO LinkedIn Profiles
Of course, not all CEOs (even unicorn CEOs) put the same level of effort into LinkedIn. These unicorn CEOs have the least information on their profiles:
Unicorn CEOs Who Are Not on LinkedIn
We couldn't find LinkedIn profiles for these six unicorn CEOs. And the fact that there are only six CEOs out of 213 who don't have representation on LinkedIn is impressive.
Dana Mead, HeartFlow
Kendra Scott, Kendra Scott Jewelry
Alex Karp, Palantir Technologies
Ric Elias, Red Ventures
Robert Simonds, STX Entertainment
Mo Chen, TuSimple
CEOs of unicorn businesses are innovative, trend-setting industry leaders who have (for the most part) embraced LinkedIn and are taking advantage of the capabilities the platform provides them with to interact with people who care about their business. Entrepreneurs who are looking to grow their business or promote their brand can learn much from these unicorn CEOs on LinkedIn.