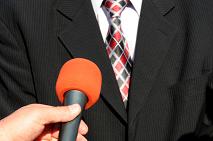 Everyone loves seeing quotes and testimonials – they are a great way to get prospects more comfortable with your business. But a lot of people have trouble coming up with a good quote, so they put off giving you one. Here's how to make it easier for them…
The easiest way to get good quotes and testimonials is to ask customers to spend 10 minutes on the phone with you, talking about the product or service.
Record the call (with their permission) or take notes.
Then you draft a quote based on what they said and send it to them for them to edit.
That's all!
The trick, of course, is that you do the work for them. The bonus is that you will get a better quote, since you can work in the points you want most to make.
Here are some other tips for crafting the quote:
Make sure you include the company or product name.
Use the customer's phrasing, not yours. This can actually give you some great keywords.
Keep it short! Most people won't read a long quote. If they gave you a long list of wonderful compliments and you want to use them all, create several quotes.
Here is a sample email asking for permission to have that call:
[Name] suggested that I contact you to see if you would be willing to give us a quote about your experiences with
Would you be willing to give us a quote we can use on our website?
The way we usually do it is that we schedule a call and spend about 10 minutes on the phone. You just talk to me about your experiences and I'll take notes. Then I'll draft a quote or two and send it to you for you to edit.
If that would be OK with you, is there a good time for me to call?
Here are questions to ask during the call:
How did you first hear about
What problem were you having at that time?
Did you look at other products or solutions too?
What made you decide to go with
How did things go?
Was there anything that particularly impressed you about the company or the people you worked with?
What kind of results did you get?
Are you planning to do more with the
Here is a sample email to send with the quotes you have drafted:
Thank you so much for spending the time on the phone with me today! I really appreciate it. You gave me some excellent information.
Here are the quotes I have drafted for your approval. Please let me know which you are comfortable having us use – feel free to edit them as much as you like.
Could you please confirm how you would like your name, title and company name to appear with the quote?
To get extra leverage from the quote, ask if they would be willing to post the quote as a recommendation on LinkedIn or share it on Facebook, Twitter, Google+ or another social site.