You can request an archive of your LinkedIn history data for free regardless of your membership level. Why do that? Those in professions with regulations might need the information for an audit or to confirm compliance. For most, it means having access to insights about your activity, connections and profile.
For example, you can see the number of endorsements you've received, how many times you've searched LinkedIn and what ads you've clicked on based on what LinkedIn knows about you in the Ad Targeting.csv file.

Learnings from looking at my LinkedIn data
The Connections.csv file lists all your first degree connections along with their email addresses, current company and current position. Having this in a spreadsheet can prove useful for your marketing and sales efforts outside of LinkedIn.
I discover that my profile has an email address that I no longer use and removed it. Looking at the endorsement file, I have 800 endorsements dating back to 2012. Opening this file in Excel makes it easier to review the information especially when I use the filter tool to sort endorsements by a person's name. (The default is by date.)
Thanks to these files, I discover something important. I have a few hidden recommendations that I didn't know about! Usually, I receive an email whenever a new recommendation comes in. Apparently, not for these.
According to the search queries file, I've performed almost 700 searches since 2013. That number is low because a lot of the queries I've done a couple of months ago don't appear. (I remember because I was doing special research.)
After you request the archived data, it takes LinkedIn up to 72 hours to compile the data. It only took 24 hours. Once completed, you'll receive an email with a download link to the zipped file. To protect your privacy, you have 72 hours to download it before the link is no longer available.
You'll see the same spreadsheet files as shown in the first image shows. The image names and number of files will be different for you.
Possible items included in LinkedIn archived data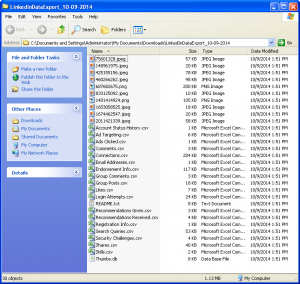 This is a complete list of all the possible files in the LinkedIn archived data. However, you won't receive a file if it doesn't apply to your account. For example, if you don't have certifications, then that file won't be included.
Review LinkedIn's Accessing Your Account Data for the highlights of what's covered when you download your LinkedIn Data, which includes the readme.txt. This lists the following items you might see in the archived data.
Account Status History: Time and date you created, closed or reopened your LinkedIn account.
Ad Targeting: Information LinkedIn uses to determine what ads to show you.
Ads Clicked: Ads you've clicked on.
Certifications: Certifications included in your profile.
Comments: Comments you've posted in LinkedIn other than in Groups. Each comment includes the date posted, URL of the comment, the item that you commented on and the item's type of content (article, share, new job, etc.).
Connections: Your first degree connections.
Courses: Courses you've included in your profile.
Education: Schools included in your profile, the dates attended, degrees earned and activities.
Email Addresses: All the email addresses you've used on LinkedIn, the date added and the date removed. It also notes the primary address you currently use to receive LinkedIn communications.
Endorsement Info: Names of people who have endorsed you, the skills they endorsed and the date they gave the endorsement. It also shows whether you accepted endorsement and display it in your profile or if it's hidden.
Group Comments: Comments you've posted in LinkedIn Groups along with the title of the discussion, name of the group and the URL of the discussion.
Group Likes: Your likes in LinkedIn Groups. Each like includes the date liked, title of the post, content of post (if available), type of post (article, share, new job, etc.) and URL of the post (if available).
Group Posts: Similar to comments except these are Group discussions you've started. This information includes post titles, the post, time of post, group name and URL to the post.
Honors: Honors in your profile along with the description, who gave it to you and the date.
Inbox: All the messages in your Messages, Sent, Archive and Trash (unemptied) folders. The file includes message dates, the messages, subject line and whether it was incoming or outgoing.
Languages: Languages you included in your profile along with the level of proficiency.
Likes: All your likes in LinkedIn other than in Groups. Each like includes the date liked, title of the post, content of post (if available), type of post (article, share, new job, etc.) and URL of the post (if available).
Login Attempts: Login history for your account including your computer's IP address, country of origin based on IP address, user agent (typically a web browser), data of login and login type.
Login types
Website Login: Signed in through LinkedIn's website or its mobile app.
Third Party Login: Signed in through another site, such as selecting "Login with LinkedIn" button on another website. Some people use social sign in to log into a website without creating a new account. Some sites offer LinkedIn as a social sign in option.
Mobile Applications: LinkedIn applications you've installed on your devices associated with your account and the date you installed them.
Name Changes: Any name changes, the date of the change and the language used.
Organizations: Organizations included in your profile along with a description, your position and how long you were there.
Patents: Patents you hold along with the issue date and filing number.
Phone Numbers: Phone numbers you've included in your LinkedIn account.
Photos: Images you've shared in LinkedIn. These appear in their original format, which could be .jpg, .png or .gif.
Positions: Jobs you've included in your profile along with the companies, titles, duties, locations and dates.
Profile: Biographical information in your profile.
Projects: Projects you've included in your profile along with the title, length of project, description and web address.
Publications: Publications in your profile.
Recommendations Given: Recommendations you've given along with the name of the person and the date you wrote it. It does not include the recommendation itself.
Recommendations Received: Recommendations you've received along with the names of the people giving the recommendation, the date they wrote it and whether it's displayed in your profile. It does not include the recommendation itself.
Registration Info: Date you registered on LinkedIn, the IP address you registered from, your current subscription type and the member who invited you, if there was one.
Search Queries: Your recent LinkedIn searches.
Security Challenges: Challenge events, such as when you logged in from an unfamiliar computer or device and when you've used two-factor authentication to confirm your identity. Details include the date of the challenge, the IP address of your device or computer you used to log in, assumed country and type of challenge.
Shares: Your shares, re-shares and posts on items appearing on the home page, company pages and university pages. Data includes date, title, description, share visibility (private or public), link to images (if any) and URL.
Skills: Skills in your profile.

Items not included in archived data
Missing from this data is People You May Know and Who's Viewed Your Profile. You also won't see a list of people you've invited to connect, messages you've sent outside of groups or who liked and commented on your posts.
You can find out what information LinkedIn collects on its Privacy Policy page. This page also explains how the service uses your personal information.

How to request an archive of your LinkedIn data
Here are the steps to request an archive of your data:
1. Move your cursor over your profile photo at the top right of your homepage and select "Privacy & Settings."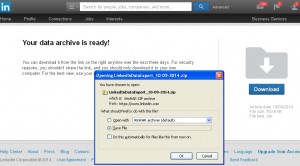 2. Sign in, if prompted.
3. Select the "Account" tab near the bottom of the page.
4. Select "Request an archive of your data" under "Helpful Links".