Increasing the diversity of your team has become a priority for executives across the US, with many companies tying promotions and bonuses to success with diversity, equity, and inclusion.
How can you show current and prospective employees that diversity matters to you – that you want to hire people of different backgrounds, are invested in fostering a positive and nurturing environment, and are committed to helping employees advance in their careers?
Make your intentions visible on LinkedIn.
LinkedIn is your professional presence online. Prospective hires will check you out on LinkedIn before an interview, and some will decide whether to apply for your job based on what they read about you on LinkedIn. Your employees also pay attention to what you do on LinkedIn, and your actions there can reinforce your support for diversity, equity, and inclusion.
Here are five steps you can take on LinkedIn to show your support for diversity.

1. Say Diversity Matters to You
We had a client several years ago who managed a technical team and wanted to hire female engineers. He put a paragraph in his About section about how much it meant to him to see the women who work for him advance in their careers.
Just making that one change helped him get more female applicants. And when other managers in his company noticed that on his profile, they started referring women for his jobs. It was a simple change, but it made a big difference.
Another easy update is to add gender pronouns to your LinkedIn profile. This is a new feature on LinkedIn – using it shows your sensitivity to gender issues.

2. Use Diverse Imagery

If you have a diverse team already, use a team photo for the header background image on your LinkedIn profile.
Or consider using one of the 26 header template images LinkedIn offers to support diversity. Choices include Self-ID for Equity, Black Lives Matter, Disability Inclusion, Accessibility Awareness, Celebrate Latino Voices, Stop Asian Hate, Amplify Black Voices, Stand for Justice, Pride, LGBTQ+, and #InItTogether.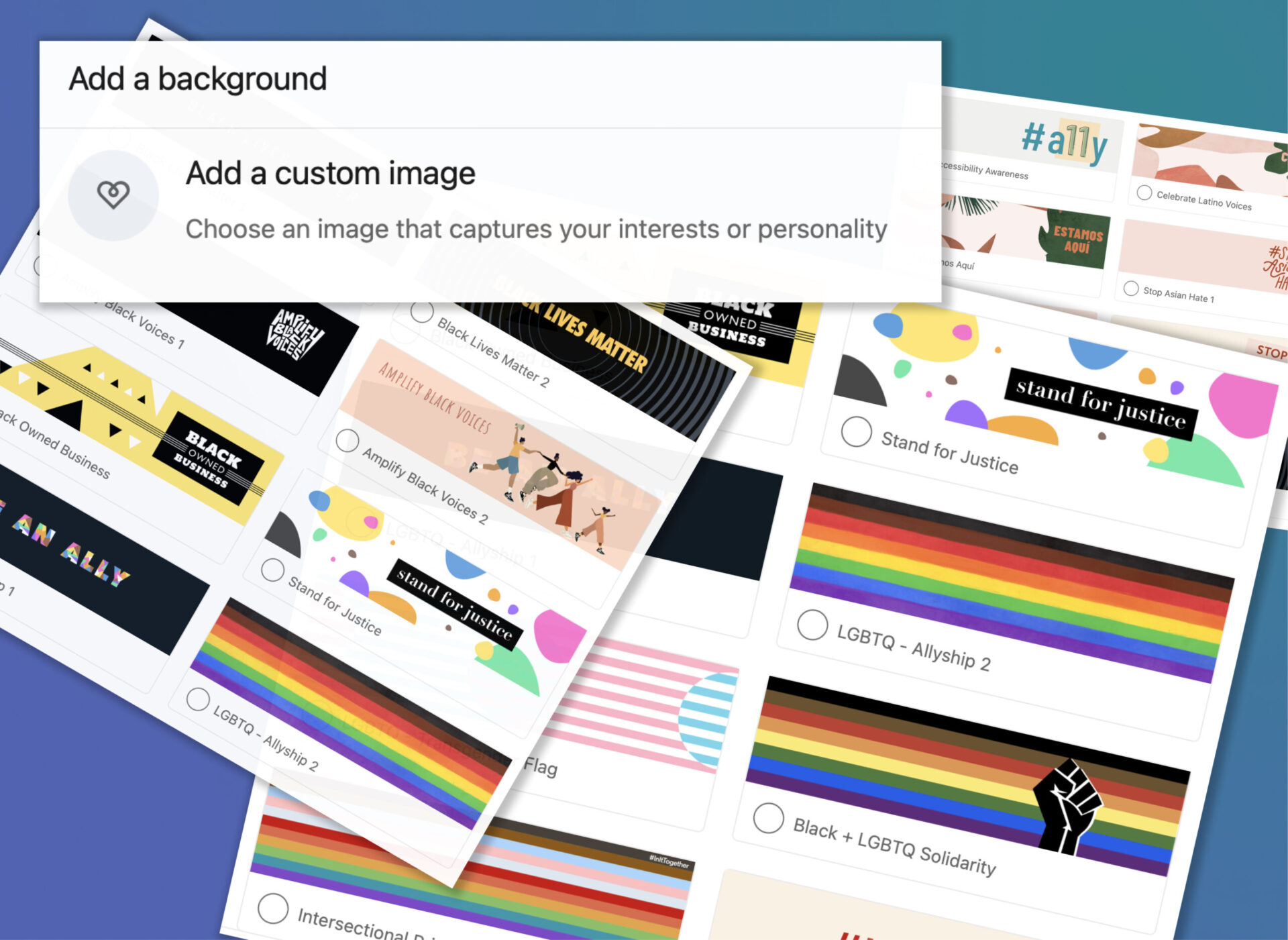 If you use stock photos for updates or blog header graphics, make sure your images reflect a diverse population.

3. Use Inclusive Language
Use "they" instead of "he" or "she."
You could also use "she" from time to time when you are referring to generic managers or engineers. But "they" is more inclusive, and it's now considered grammatically correct for a single person.

4. Engage with Peers and Employees
Show your appreciation for your team by liking and commenting on their posts. Especially make sure you welcome new team members and congratulate employees on awards and accomplishments. Don't single out anyone for special treatment – that can come off as fake. Just engage across the board.
And look for rising leaders across the company who you can support, even if they don't report to you.

5. Follow Diverse Thought Leaders — Like and Comment on Their Posts
Following someone on LinkedIn puts their posts into your news feed, making it easy for you to keep an eye on what they are saying.
You can use the Following feature to diversify your news feed, so you see more posts from people outside your network. Look for people who have something interesting to say and who don't look like you, then click the Follow button on their profile.
If you find someone really fascinating, click on the bell image to the right of their name. You will be alerted when they post on LinkedIn.
People who visit your profile can see which "LinkedIn Influencers" you are following (they can't see everyone you follow, only people who have the Influencer designation). And they can see how you engage with them. By following diverse thought leaders, you signal your support for diversity, equity, and inclusion.
(Need help finding good people to follow? We have built a list of 650+ LinkedIn Influencers – just ask and we will be happy to share.)

Authenticity Matters
One caveat: You have to be authentic. Everyone has had enough of leaders who say one thing and do another.
Don't say your team is diverse when it isn't. People can use LinkedIn to look up who reports to you – it is not hard to figure out the chain of command in most companies.
And don't pretend to support diversity unless you really want a diverse team.
But if you truly want to increase diversity, being more inclusive on LinkedIn is an excellent place to start.