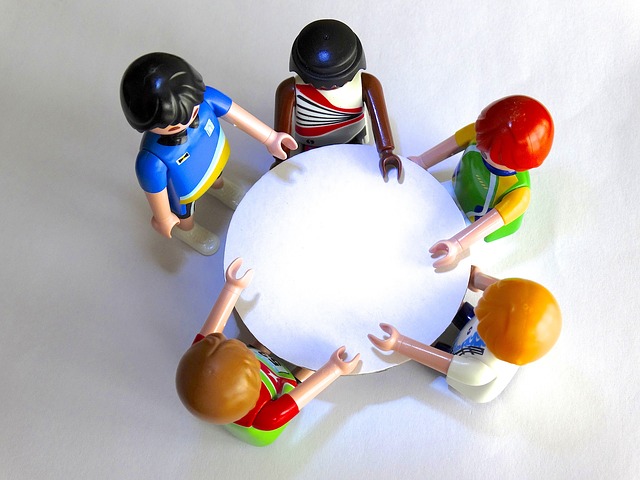 You already know that LinkedIn is a great place to post your original content. (If you don't, read why you should start.) You're excited to begin harnessing the power and audience it gives you. Maybe you've even dabbled in blogging a little from your profile. Now it's time to get serious about putting LinkedIn to work for your company.
You'll definitely want to talk to your marketing team about using LinkedIn. You may have discussed it with them already; they may be using it now. Whenever the conversation occurs, you will want to have a strategy in mind that encompasses the publishing and advertising possibilities on LinkedIn. Here are four questions to guide you:
1.     Are we sharing our original content?
Content can take the form of blog posts, articles, white papers, e-books, videos, (maybe someday e-learning courses), etc. All of these can be posted to an individual member's profile on LinkedIn. As of now, LinkedIn does not allow publishing on company pages—only links to content.
When you post links on your company's page, they should lead to posts of content on the profiles of individual executives. You can also link to the original locations on your company's website. But to get the most out of LinkedIn, your content should be right on the site, where it can be liked, shared, commented on, and searched.
2.     Do we have an editorial calendar for LinkedIn posts?
An editorial calendar provides a timeline for sharing new content. It represents the topics that are most important to your company, when they should be addressed, and in what order. Do you need to educate your target market about a solution you offer? Do you want to showcase your company's analysis of an event or trend? The editorial calendar helps you to plan those tasks.
Another function of the editorial calendar is to organize how authorship will be presented. Posts on LinkedIn are associated with the profile of the employee who posts them, even if they were created by someone else. If more than one person in your company is a thought leader, your editorial calendar can map out whose profile will be used for which content.
3.     Are we promoting our content with Sponsored Updates?
LinkedIn's advertising solution, Sponsored Updates, allow you to publish content from your company page directly to the LinkedIn feed of any user on the site, regardless of whether those people follow your company. With Sponsored Updates, your content is not just sitting on your profile page, but is being seen by every user you send it to.
Sponsored Updates can consist of any of the media you post on LinkedIn and are visible to smartphone, tablet, and desktop users at the appropriate scale. Used in conjunction with your published content, Sponsored Updates are a great way to advertise your company and extend the reach of your ideas.
4.     If so, who are we targeting?
The beauty of Sponsored Updates is that they can be targeted to LinkedIn members based on demographics such as company, job title, skill, and group membership (to name a few). This allows you to campaign specific content to those people most likely to be interested in it. Marketing your content on LinkedIn need not be a one-size-fits-all process.
Using Sponsored Updates well requires giving some thought to your target audience. In some cases, your content may be applicable to a broad spectrum of professionals. In other cases, you may want to speak directly to those in certain positions (to CFOs about ROI, or to technical staff about features, for example). Deciding which of your target audience will receive which content is an excellent topic of discussion with your marketing team.
When you ask these questions, see if the answers you get from your marketing team indicate that they are aware of the full functionality of the LinkedIn publishing platform. There are many great resources available from LinkedIn itself to learn more about publishing and Sponsored Updates.
If your marketing team doesn't have a strategy for exploiting the riches of LinkedIn publishing, you could be missing a great opportunity to grow your business.