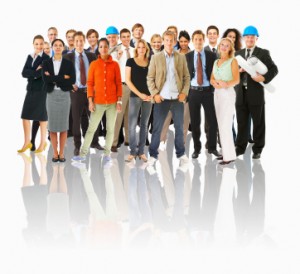 As you are building out your nurture marketing program, make sure you include all the people who could be referring business to you.
Spend a little time every quarter brainstorming about who else is engaged with your prospects and might be able to tell them about your products and services. Consider each of these 11 groups listed below, and you will come up with lots of people you can add to your list.
1. Partners
Start your list with business partners and other people who are already referring business to you. You definitely want everyone who is already making referrals kept current with what's going on at your company, and you want to sell them on being an exciting, growing firm.
Consider including former partners, if the partnership ended on a positive note, as well as prospective partners.
2. Complementary businesses
Whatever you sell, I guarantee that you do not sell it in a vacuum.
• There are products and services that are sold into businesses and to consumers before they are ready for yours.
• There are products and services that are sold in conjunction with yours, as part of a complete solution or because the timing simply works out that way.
• And there are products and services that your customers aren't ready for until they have used yours.
Find the people who sell those other solutions, and include them on your list.
3. Competitors
Yes, competitors. Those businesses are out there working hard to generate leads, just as you are. And no matter how good you are, you are not the perfect fit for every lead that comes to you. A competitor might be.
So look for competitors where the differentiation is pretty easy to find – perhaps they are much more expensive or much less expensive. Or perhaps they target a different market.
When you are including competitors, you might want to make sure the person you mail to is someone you know – someone you may have met previously and know would be open to making referrals back and forth. That means you'd be looking for someone in sales.
That can double as a recruiting pitch, by the way. Make it look like your company is growing and doing very well, and you might be able to lure away a top rep (if you want to).
Although, to be devious, there is also the benefit that seeing regular mailings from a competitor can be really annoying. If that's the kind of relationship you have with your competitors, that can be fun too.
Of course, if you have competitors on your list, you want to check before each mailing to make sure what you are sending is appropriate for them to receive. You might not want all your latest news to go to them right away. So you might flag these individuals in your database so you can easily do that check.
4. Respected advisors
There are consultants, accountants, lawyers, and other professionals who work with your prospects. There are also thought-leaders, bloggers, editors, celebrities, influencers… Think through who your prospects respect and look to for advice. It might be advice relating to your product or service, or it might be unrelated – just someone they respect. Bringing your business to the attention of people like that can be very worthwhile. Remember, these don't have to be people you know (yet).
5. Associations and professional groups
Are there people in associations, professional or fraternal societies, or any other kind of professional or social group who might be in a position to refer business to you? Add them to the list. People in groups like this can be very well connected.
6. Social networking contacts
You might know people through Facebook, LinkedIn, Twitter, online communities, listservs, discussion forums or social networks who you would want to include.
7. Customers
Satisfied customers are a great place to look for referrals. You will have to decide if you want to include your customers in this list or not. Some of your customers will be better connected than others and find it easier to make referrals, so you may want to include some and not others. You may have too many to include, and many of the mailings will not be appropriate for customers.
But when you are sending educational articles or information about new products and services, it is an excellent idea to include your customers. You want to keep them up-to-date with what's happening with your company and what your offerings are, and there's value in reinforcing for them that yours is an exciting business where cool things are happening.
Think about including former customers too. Sometimes you have a customer who stopped working with you for any of a number of reasons but still thinks highly of you. They might be in a position to refer you. So keep them up-to-date with what's going on.
8. Prospects
Many businesses will include prospects who are in the pipeline in their list. It's a great way to educate them about the value you provide and demonstrate that yours is the kind of company they want to do business with.
9. Employees
A lot of businesses overlook the value of keeping their own employees involved. If yours is a very small business, this might not be an issue for you. But particularly with so many people working from home now, a lot of people who work outside sales and marketing don't have the latest information about what's available from the company. If you think they might be able to make referrals, include them.
Think about former employees too. They might be working for a company that would make an ideal client.
And don't forget prospective employees – people you are trying to recruit. Educate them about your offerings and you'll help sell them on your company – plus they'll hit the ground running when they come on board.
10. Former coworkers
If you or others on your team have former coworkers who might be able to refer business, consider including them too. You might brainstorm about who you know that might be a good referral candidate.
Don't forget people you were associated with at your former positions – vendors or clients. They might be good referral sources.
11. Other
Whom else do you know who might refer business to you? Let your mind wander… By now you're either exhausted with the possibilities or your brain is churning and coming up with one brilliant idea after another. If it's the former, come back to this next quarter. If the latter, keep going! The more people you have on your list, the more referrals you will get.