Importing email lists into LinkedIn to grow your connections is difficult at best. There's no effective way to import a list and personalize a message to that list. We've tried it on several of our team members' accounts, both free and premium.
Here we describe the process so you know what we've tried and doesn't work. None of the routes lead to sending a personalized message to your email list.
Upload contact file fails
The biggest problem and disappointment is when you select "Any Email" to upload a file in.csv, .txt, or .vcf, it doesn't work.  If it did, it would make a big difference to growing your LinkedIn connections with email lists. This isn't a temporary broken issue as we've seen reports dating back to 2013 with no resolution.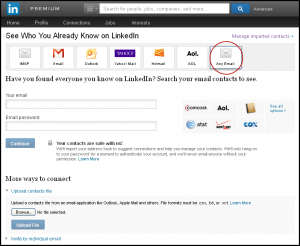 It doesn't matter how you format the file or if you follow LinkedIn's "Uploading Contacts File Didn't Work" instructions. We went as far as exporting our LinkedIn connections as a .csv file. We erase all the information and copy/paste the first name, last name and email address from email list into that file.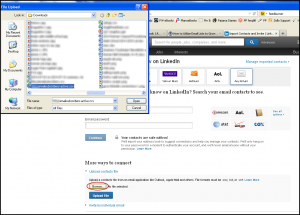 We upload it and once again, the upload fails. The LinkedIn community gives advice we've already tried. None of the advice works.

A few reports claim that the import works despite the error. We could not find any of the names from the uploaded file in the Imported Contacts List.
Trying a workaround
In this workaround, we export our email list and import it into a web-based email service. While you can copy/paste email addresses to "Invite by individual email" as shown in the first image, LinkedIn won't let you personalize the message. The service automatically sends them the generic connection request. That won't do.
Here's how we did the process in case you want to try it for other purposes. First, have your exported file of your email list ready to go. If you don't have it yet, go ahead and export your email list from your email app or email marketing provider. Most provide instructions on how to do it. Here are instructions for Constant Contact, Gmail, Mail Chimp, Outlook, Outlook.com and YahooMail.
Important: Be sure you keep first and last names in separate columns. If the first and last names are in the same column, you'll import email addresses without names.
Getting the names into LinkedIn
Select a web-based email service to use to import the addresses into LinkedIn. If you want to import email lists on a regular basis, you'll want to create a brand new account that you can use for this process. This keeps things clean and prevents duplication.  LinkedIn is supposed to recognize duplicates, it doesn't always. The first two entries in our Imported Contacts List on LinkedIn are duplicates.
This example uses Yahoo! Mail. Since we don't use Yahoo! Mail to for daily email activities, we delete all the contacts in that account before importing the email list. This ensures that LinkedIn only imports the new names from the email list.
In Yahoo! Mail, we imported the email list in a .csv file into Yahoo! contacts. (Contacts > Actions > Import > File Upload > Browse > (select .csv file) > Open > Import > View Contacts.) Success. One thing finally goes our way!
Now go to LinkedIn. Choose "Add Connections" from the Connections menu.

This takes you to the "See Who You Already Know on LinkedIn" page. Choose your web-based email service. Here, we select "Yahoo! Mail" and enter our yahoo email address. Select "Continue" to move on.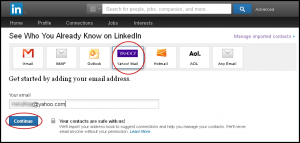 A popup appears requesting authorized access to Yahoo! Contacts. (If you're not logged in Yahoo!, it'll ask you to enter your login.)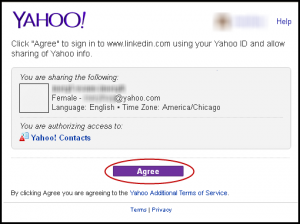 Here, one of two things can happen.
One, you'll see the "Congratulations, your previous contacts upload was successful" box. You can go ahead, choose "Add connection(s)" and "Add to network" to send an automated invitation unless you want to send a personalized invitation one-by-one.
The second thing that can happen is that LinkedIn asks you if you use other web-based email services. Ignore that and go to "Manage imported contacts."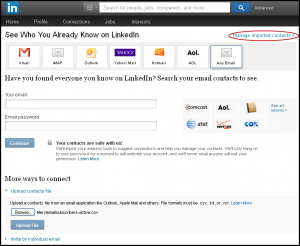 Manage imported contacts
Now we're on the Imported Contacts page. The ones with the LinkedIn symbol have LinkedIn accounts. Those are the ones you want to target.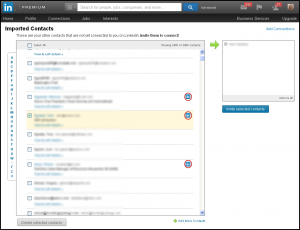 There's a little bit of good news. We were already connected to a few people who attended the event where we collected names for this email list. Those names don't show up in the Imported Contacts List. So no worries about sending an invitation to someone already connected to you.
To proceed with an invitation to connect, choose "Select all" and deselect anyone who doesn't have the LinkedIn icon. Then select "Invite selected contacts" to send the LinkedIn invitation to connect. Now, if only LinkedIn would give us the option to personalize the message.
So if you have a long list of names, this gives you a way to send an invitation to connect on LinkedIn in bulk. But we're big on personalization and prefer not to do this.
For the next email list
If you're OK with not personalizing the mailing list, then you could repeat this process. For example, next time we attend an event or create a special email list, we'd use Yahoo! Mail again. All we have to do is select all the contacts — since we've already imported them — to delete them and start fresh.
Not the prettiest process, but it works for sending bulk invitation requests. It's less time consuming than trying to email each person.
How do you connect with your email lists on LinkedIn?