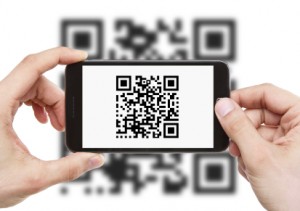 I rarely visit a nearby giant mall, so I don't know where the stores are located. Whenever I go to there, I head straight to the map first thing. Rather than memorizing the locations of the stores I want, I use my phone to scan the QR code on the map to take it with me.
This is QR code in action doing what it does best: giving businesses a way to help customers take an offline source online and mobile. It saved me the time of using my phone to search for the mall's directory on its not very mobile-friendly website.
While some customers haven't adopted QR codes, it's a helpful tool. QR codes take little space and you can provide a service to customers who use them. Even teachers are getting in on QR codes. At a recent school open house, each teacher posted a QR code for parents to scan to get the teacher's contact information.
Using QR codes in retail and restaurants
Here are some ideas of what retail and restaurants can do with QR codes:
Share basic information. This includes address, phone number, website URL, social media URLs and hours of operation.
List products. Restaurants can post menus, while retailers can list brand names and products sold in the store. If possible, include pricing so customers know what to expect. You don't have to change the QR code every time you change prices. Create the QR code to deliver a document or a web page. Then, all you need to update is the document or web page.
Offer discounts. Customers who scan the QR code can get a code word or instructions for getting discounts.
Collect customer feedback. You can put a QR code on your menu or next to your cash register. Use the QR code to take customers to a mobile-friendly form (preferably a short one) that allows them to give you feedback about their experience.
What NOT to do with QR codes
Watch out for the following:
Lack of explanation for the QR code. Just posting the QR code and hoping people's curiosity will compel them to scan isn't enough. Give them an idea of what to expect when they scan it:

Scan for contact information and operating hours.
Scan for offers.
How's our service? Scan to share your feedback.
Scan for our menu.
Scan for items we carry.

Create tiny or giant QR codes. We've seen some QR codes smaller than a dime. Phones can't always successfully scan something that small. They should be at least the size of a quarter. But not huge. Creating a large QR code may be troublesome because customers have to work harder to capture it on the small screen.
Send traffic to the wrong place. If your QR code just sends people to your home page, that's not helpful. Remember people scan QR codes on their mobile devices. You want to deliver something they can use while they're mobile.
Fail to optimize for mobile devices. Whether your code sends people to a web page, form or something else, ensure it's easy to see and use on a mobile device.
Put the QR code in an accessible place. The first time I saw the QR code on the map at the mall, it was over eight feet up! I was grateful when they redesigned the map and moved the QR code in a much lower spot.
Publishing the QR code on the website. What's the point? One reason for doing that would be to share it with coworkers, franchises and others who might need it to use in their publications.
What other ways can retailers and restaurants use QR codes? What good examples have you seen? Bad examples?