Social Velocity Coaching
Your Fast Path to Success in Social Media

Social Velocity is a unique social media coaching program for executives.
Your coach works with you, one-on-one, to define a personal social media strategy that advances your business goals.
You can work on a wide range of tasks, including building your network, blogging, video, and advertising.
Have your assistant do the work. Your coach can work with you to define your strategy, train your assistant to handle your social media for you, then provide ongoing support, problem-solving and oversight.
Social Velocity Mini
A short coaching program for executives who just need a little help.

In a 45-minute Social Strategy Session, you and your coach discuss what you want to accomplish in social media and what you need to learn.

Your coach answers your questions and shows you how to do the things you want to learn.

After your call, she documents what you discussed in a Social Action Plan, giving you a list of steps and action items.

You receive email support for the next 30 days as you put your plan into effect.
Social Velocity Coaching
Truly master LinkedIn with this two-month coaching program.

Begin with a 45-minute Social Strategy Session to discuss your goals for using social media, what resources are available to you, and how much time you can devote to LinkedIn.

Your coach designs a Social Action Plan to meet your goals.

Schedule four 30-minute coaching sessions at your convenience over the next two months. In each session you focus on the specific topics you want to learn.

Includes email support between sessions.
Native Video JumpStart
Spend two hours with a video coach and get ready for magic to happen! Work with your coach in-person or using Zoom.

In the first hour, you work on your strategy and goals for using video.

You discuss video logistics, such as the type of equipment you need, choosing locations, lighting, creating a set, and how to make your own teleprompter.

In the second hour, you get more comfortable on camera. You practice and see your presentation become more polished.

You talk about what to wear, hair and makeup, and what to do with your hands.

You get tech tips on shooting, editing and captioning your videos.

You discuss when and how to upload, and what to do after you post a video.
Social Media as a Leadership Tool
Explore the ways you can use social media as a leader. Tell stories, nurture relationships, congratulate partners, reward your team's hard work, and more. This ebook is packed with tips and strategies for leaders.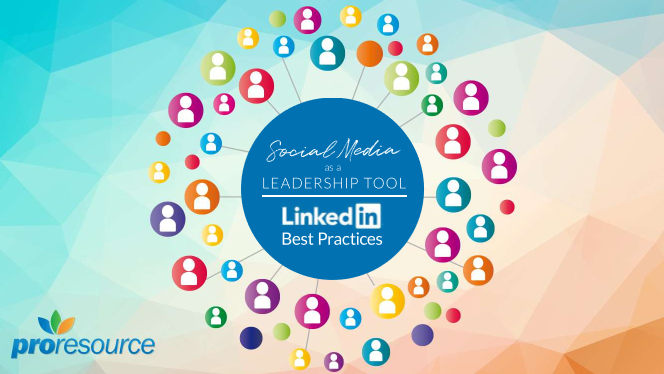 Learn Twitter the easy way – watch people similar to you who are using it effectively. We identified 20 types of tweets that CEOs make on a regular basis and illustrated each with examples from Fortune 500 CEOs.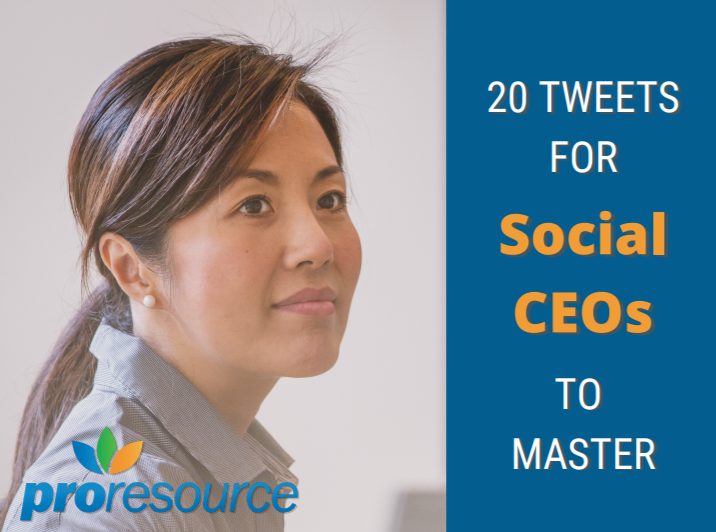 Have questions about LinkedIn? Ask one of our experts about your profile, building your network, searching, blogging and more.
Thursdays 11:30am-12pm ET
Join via GoTo Meeting:
https://global.gotomeeting.com/join/899872357
Or dial in at (872) 240-3212
Access Code: 899-872-357
Need a local number from your country? Email sales@proresource.com