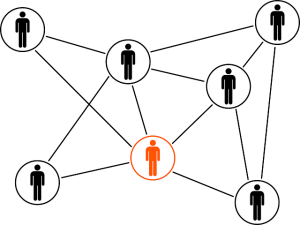 LinkedIn has become a valuable social selling tool for sales people. While VPs of sales typically don't do the selling, you represent the company. Furthermore, clients and prospects will do a search online to learn more about you and your company before they connect. Your VP of sales LinkedIn profile is most likely to appear at the top of the search results.
While you may not control what digital property of yours appears at the top of search results, you can control what your LinkedIn profile says about you. Take this opportunity to use these tips to improve your VP of sales LinkedIn profile.
Begin with your summary
Because of its narrative style, the summary is one of the most read sections in your profile. This is where you tell your business story. It's your best chance to attract interest. Sales people are known for being great storytellers. Ensure your summary does just that.
In the summary, show people who you are by sharing what's important to you and what your goal is for your sales department. Some VPs of sales list achievements in beating sales quotas, some get personal in talking about the things they like to do when not at work, and some add a touch of humor.
Mike Chasteen, VP sales and marketing at Lanvera, has a short 'n' sweet summary. He opens: "25+ years experience as an evangelist, strategist and teacher. Leading great sales teams as small as 5 and as large as 200. Successfully manages P&L's, and drives attainment hitting revenue goals as high as $300M."
He briefly states that he works to empower sales people and he's an author. You can see what kind of experience he has in sales and he makes an impression with his short summary.
Another useful thing to include in your summary is what you're looking to do with connections you meet on LinkedIn like David Cassady's summary does. "I am on Linkedin to strengthen business relations and ensure customer success," he writes.
Show how well you're connected
Unless a person has more than 500 connections, LinkedIn lists how many connections you have in your profile. After 500, LinkedIn simply uses "500+," so that's the ideal number to target. For sales VPs, you should have no trouble making your number. Visitors to your LinkedIn profile will instantly know how well you connect with others.
They'll also look for connections that have in common with you. So, it's worth your time to connect with the right people. Ideal connections include your fellow executives, partners, key customers, employees, and influencers in your industry, such as editors and bloggers.
Support your experience with recommendations
Under the experience section, most LinkedIn users just outline what they do and their responsibilities. In reviewing many profiles of VP of sales, it turns out they're thorough in sharing their experience, achievements, and more. No one stands out with an empty experience section.
Sales VP and teams live and die by their numbers, so it should be effortless to post results. Executives, clients and potential employees will want to know what you've accomplished. Ask yourself: As VP of sales, what results make me most proud? What outcomes did my sales team get for our company and customers?
Endorsements for skills are great, but recommendations are better. It takes more time and thought to write recommendations. Strengthen your experience by ensuring you have recommendations for your current and most recent positions. The most impressive recommendations come from customers, executives, and partners. Most people will agree to write one if you ask.
Better yet, most return the favor when you write recommendations for them. LinkedIn usually sends an email when people receive a new recommendation. That email also asks if the recipient wants to return the favor by writing a recommendation.
Get more exposure
Media — such as photos, videos, slideshows, and articles — balances a profile by adding color and visuals within all the text. To get more speaking engagements, add videos of your presenting.
Do you accept media interviews? Then, include articles with quotes from you. Have you written articles? Post those too.
Look past your connections
You may not know Bill Gates personally, but you can sort of connect with him by following him. The difference between following and connecting is that you're not required to know the person or the company. Why bother? It's an easy way to show who and what companies interest you. These include thought leaders in your industry, key partners, and important customers.
For example, a sales VP at a software company would follow respected influencers and experts in tech and software.  These could be editors, journalists, and bloggers whose beats include tech topics or they work for a tech publication. Other thought leaders include industry analysts, tech consultants, CEOs, CIOs, CTOs, and sales VPs at other tech companies.
Don't forget to follow company pages of clients, partners, publications, relevant professional organizations and complementary companies that would make good partners.
Find clients and influencers
LinkedIn Groups are valuable for connecting with people and forging relationships. It allows you to join up to 50 groups. Shoot for 20 at the very least.
So many groups. How to decide? Begin with the ones your customers join. Seek groups related to your industry and the type of work you do. A VP of sales at a software company with a target market of developers would look for groups related to software development and tech.
LinkedIn has almost 2 million groups. A quick search for the keywords "software development" produces 4,000 results! A VP of sales can get more specific by adding keywords related to the software product.
Since you already have some connection with the people in your alumni and favorite nonprofit organizations, join them.
Don't miss a sales opportunity
Many LinkedIn profiles include a link to the company website, but not to other important resources. As a sales VP, you know people are more likely to buy from the people they know. Good links to include would be your company's social media pages, blogs, FAQ, and other sources for more information about your company's products or services.
You know buyers do the majority of their research before ever contacting the company. Help them by making it easy to find resources from your company. And it could lead to another sale.
What else can you do to boost your sales VP LinkedIn profile?