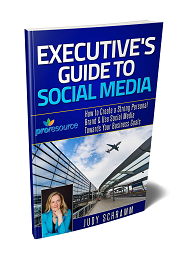 Executive's Guide to Social Media
How to Create a Strong Personal Brand and Use Social Media Towards Your Business Goals
As a senior executive, much of the advice you hear about social media isn't relevant to you.
You're not trying to take the Internet by storm, "make $10,000 in your first week!" with the latest fad product – and you certainly don't have time to tweet 20x a day or spend hours liking and sharing posts from fans and friends.
You do know there's potential in social media.
You want to learn how to take advantage of it. But you need advice geared to your situation, appropriate for your role in your organization. Most of all, you want a strategic approach that acknowledges the limited time you have to spend.
This is the ebook for you. It's a short book – just 38 pages – and it's easy to skim. It starts with the big picture, then provides specifics.
Take the Next Step
Learn about Personal Branding for Executives.
Register for a 30-minute webinar: Executive Branding 101