Are You Using Social Media Effectively?
Start with LinkedIn… See if you are using your LinkedIn profile effectively to promote yourself and your business – download your free checklist here (no sign-up required):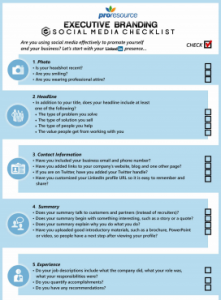 ProResourceExecutiveBrandingChecklist
Want help creating a stronger social media presence? We offer social media coaching for executives: SocialVelocity
Or we can do all the work for you: Executive Branding
Schedule a free 15-minute call – we can talk about what you want to accomplish and see if we can help.