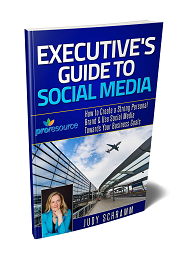 Executive's Guide to Social Media
How to Create a Strong Personal Brand and Use Social Media Towards Your Business Goals
As a sales leader, you know how important social selling is, and you want to set a good example for your team. But you don't have a lot of time to spend online.
You need advice geared to your situation, appropriate for your role in your organization – a simple yet strategic approach.
This is the ebook for you. It's a short book – just 38 pages – and it's easy to skim. It starts with the big picture, then provides specifics.
You'll look better in social media, and you will be able to help your team.
Get Your Free Ebook Now!
Enter your email below to get your free PDF ebook.
Take the Next Step
Learn about Personal Branding for Executives.
Register for a 30-minute webinar: Executive Branding 101