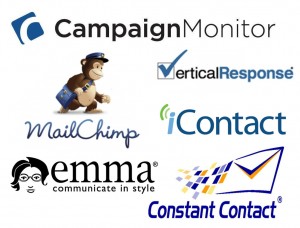 When you have a small business, it's essential to stay in touch with people – to get your email newsletter out regularly.
But there are lots of months when you are just too busy to write an article, or even to come up with an idea for someone else to write.
That's why we supplement the content our clients create with quality content from other sources.
Not only does this make your life easier, but it can have a lot of value for your subscribers. It can give you additional credibility – partly because it shows that you are deeply engaged in your industry and know who else is talking about your topics, and partly because people are more comfortable taking action when they hear the same ideas from more than one person.
So don't miss a month! Get that newsletter out on a regular basis.
The two simplest ways to do this are:
One great post – find one really good post on a theme that matches what you have been saying. Share that and say how pleased you are to see others writing about the same topic.
Three posts – find three posts on one topic, preferably that cover slightly different aspects, and share them.
Here are some other ideas you can leverage:
Draw from other industries – look at blogs, magazines or portals from completely different markets. It can be very interesting to see how other people approach issues.
Partners – share blog posts or videos from your partners.
Employees – have employees pick the best work-related blog posts they read this month, and do a little intro about why they thought it was important.
Clients – share articles or blog posts clients wrote.
Hot topics – is there a really big issue that everyone is debating? Collect a group of blog posts that address that topic.
Questions you get asked – if there are questions prospects ask often, find a blog post written by someone else that answers the question and share that.
What's new – share blog posts that talk about the latest trends in your industry.
How to find all these blog posts?
You can use Eqentia or Google Alerts to bring you posts on a particular topic. Just filter them into a folder so they are waiting for you when you are ready to do the newsletter.
This is an excellent project for a virtual assistant. They can come up with suggestions for content, talk it over with you, then go find great blog posts and set up the newsletter.
Have you tried using other people's content in your newsletter? How did you do it?