Most business owners and entrepreneurs know the importance of having an online presence with a company website. But they also need landing pages, pages that stand alone prepared to receive visitors from special marketing campaigns. A landing page has one job: get users to take the desired action.
Here's an example … A software company can send an email to current customers to tell them about a sale. They wouldn't send people to their regular shopping cart page. They'd have more success with a special landing page for this offer.
Since the audience is customers, they can develop a more targeted message. They don't need to explain things their customers would already know. This would be a waste of time. Rather, they focus on talking about the sale, create a sense of urgency with a deadline and include a clear call to action.
A B2B MSP can create a landing page for a webinar targeted to healthcare providers. It'd send an email to its healthcare segment and drive them to the relevant landing page. The more specific you get, the greater chance your landing page will convert.
Landing page tools simplify the process by taking care of all the back-end programming and avoids the time extensive activity of designing from scratch. You don't need to be a web designer or learn another programming language.
Landing page tool features
Here are some features to consider when looking for the right landing page tool:
| | | |
| --- | --- | --- |
| A/B testing | Analytics | Confirmation/thank you page |
| Email integration | Marketing tools integration | Mobile-optimized pages |
| Payment integration | Social media integration | Templates |
Landing pages are typically hosted on the provider's server. Should you decide not to renew with a provider, you'll lose your landing page. Considering landing pages are based on marketing campaigns, so they tend to have a short life. This is generally not an issue, but something to keep in mind.
Here's a short list of three different landing page tools. Most charge monthly or annual fees that are discounted when paid in full up front. Many offer free trials.

Instapage
You can build your first landing page free. The basic account is $29 per month, which includes unlimited pages, unlimited A/B testing, 5,000 visitors per month, unlimited custom domains, more than 70 templates, WordPress integration and mobile ready pages. All plans come with email notifications, Google Analytics, real-time stats, SEO plugin and form submission redirect. Instapage works with more than 20 marketing tools and allows you to add videos.
It takes only a minute to sign up and start working on your first landing page. You begin by selecting a template for your campaign, which takes you to the easy-to-use WYSIWYG editor with drag-and-drop capabilities. A popup tour guide helps you through each step. All elements of the page can be customized.
The basic editor only shows you the menu you need for the current activity. For example, select the big orange button to view its options. That's all you see. You won't be distracted by irrelevant options. Instapage stands out for its simple and clean interface that takes no time to learn.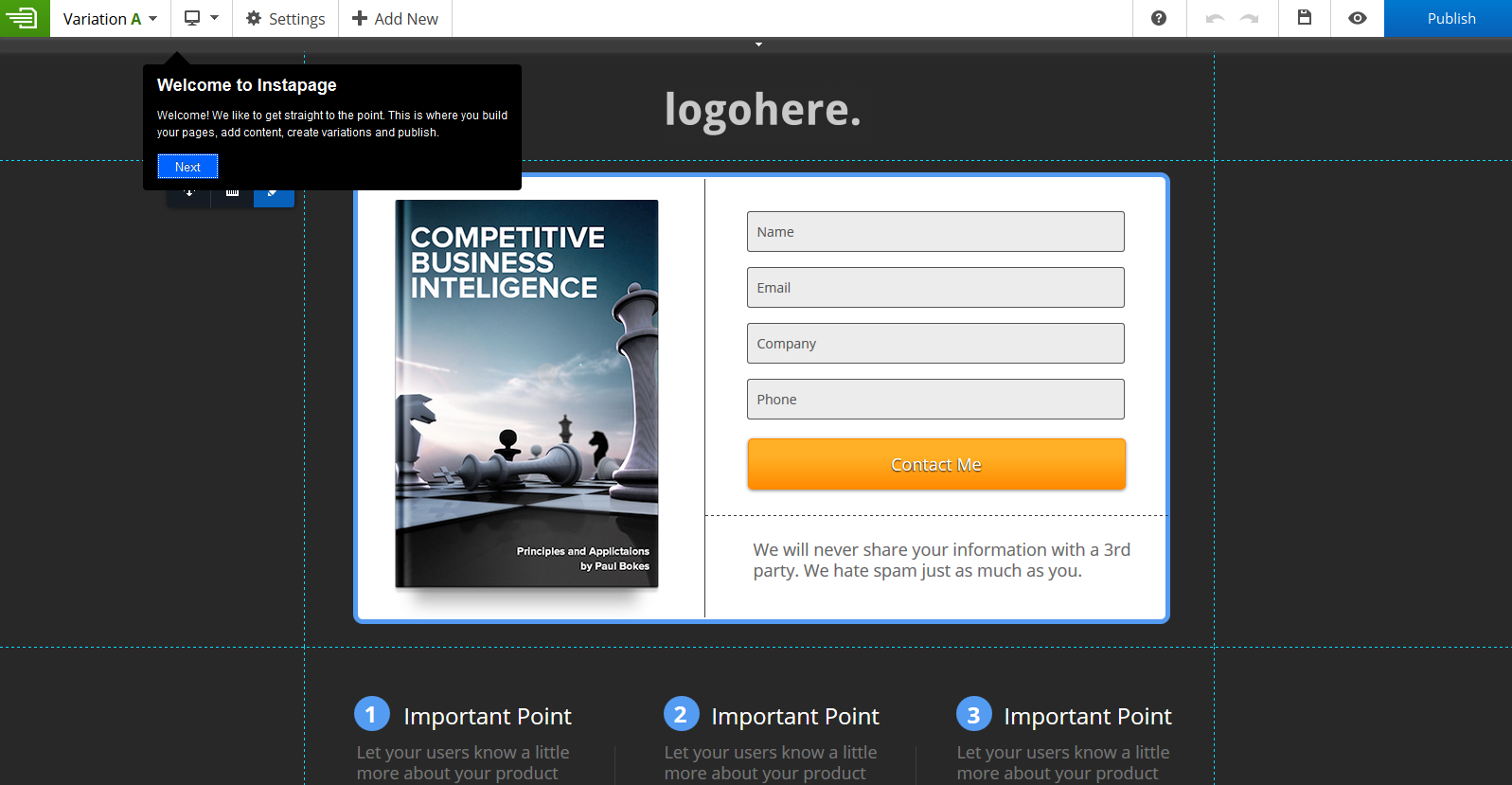 In Goldilocks terms, you could call it the "just right" software. It doesn't have the stout features of Unbounce that can overwhelm a small business owner who has no time to learn such a brawny software. Yet it's more flexible than LeadPage, giving a small business the ability to customize landing pages.

LeadPages
The LeadPages platform is the Mad Libs of landing page tools. It includes three components: LeadPages, a landing page builder; LeadBoxes, a popup box builder for subscriber signups; and LeadLinks, a zero-step opt-in process. The Standard plan is $25 per month when paid annually, or $37 on a month-to-month basis. It includes unlimited pages and domains, fill-in-the-blank templates, WordPress integration, embedding and HTML support (annual plan only), A/B split testing, first priority email support, access to affiliate plan, and customizable landing pages uploads.
One of the most useful features is the ability to sort its templates by conversion rate and by type of page. If you want to create a thank you page, you can sort thank you pages by highest opt-in rate to see which are more successful. You can do the same for other types of pages. Every feature comes with a video explaining what it can do. (Some videos are closed-captioned.) It provides many video tours, which is especially useful since there's no free trial option. (That's why there's no screen shot.)
Instead of a trial, Leadpages offers a 30-day money-back guarantee. It would be nice to see full screen shots (step-by-step guides show bits and pieces), or at least be able to interact with the app under a dummy account.
LeadPages has the least amount of flexibility. This can be a pro and con. Here's the Mad Libs part. It's a pro for people who just want to fill in a few blanks without messing with anything and publish fast. It's a con for those who want to customize templates beyond colors and logos. You can't even resize a logo as most dimensions are set.
This rigidity pays off with its unique features that allow you to accomplish tasks in only a few steps. Want to add a tab to Facebook? Done within a few clicks.

Unbounce
Unbounce can be daunting at first because it's a robust platform. Think of Unbounce as the Photoshop of landing page tools rather than Photoshop LE, Picasa or IrfanView. Its testing capabilities are second to none.
The service offers drag 'n' drop, WYSIWYG landing page builder. A free 30-day trial is available for all plans. The Starter plan is $49 per month, which includes email marketing integration, Adwords integration, one custom domain, unlimited landing pages and 5,000 visitors per month. Customizable mobile responsive design, customizable and industry-specific templates, social media widgets, Javascript, and custom confirmation pages are available in the Starter plan.
You can kick the tires without signing up for a trial account with a credit card. This takes you to editor where a message box guides you through the process. You can send a message to support in a side window (didn't get a reply and didn't know how to get the window back on a different day), watch a video (not closed-captioned) or jump to Unbounce's "Getting Started Guide" for more help. Popup boxes with tips appear on occasion.
Unbounce boasts having dynamic text replacement that can change text based on searched keywords. You'll find everything you need to create powerful, customizable, measurable landing pages. The trick is learning the software to take advantage of its rich features.
What landing page tool interests you? What makes it more suitable for your business?