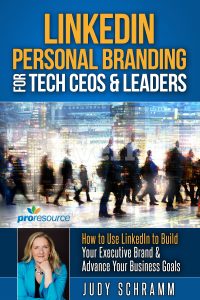 LinkedIn Personal Branding for Tech CEOs & Leaders
How to Use LinkedIn to Build Your Executive Brand & Advance Your Business Goals
You have a strong personal brand or you wouldn't be where you are. But how visible is that brand?
If you haven't put effort into crafting your brand online, you are missing a huge opportunity. You could have a presence that was selling for you 24/7, impressing people, educating them, and expanding your reach.
In this ebook, you discover the specific steps you need to take to create a strong personal brand online using LinkedIn:
What to include on your profile
Who should be in your network
How to build relationships
How to get more exposure for your ideas
After the basics, you'll see how to use LinkedIn to make faster progress in the areas that matter to tech CEOs and leaders:
Lead Generation
Recruiting
Product Launches
Speaking Engagements
Media Coverage
Book Promotion
Board Role
Job Search
It's a quick read, packed with tips you won't find anywhere else.
Take the Next Step
Learn about Personal Branding for Executives.
Download Your Worksheet: ProResource Personal Branding Worksheet